Program Steps
350 kWhrs Saved! Project Instructions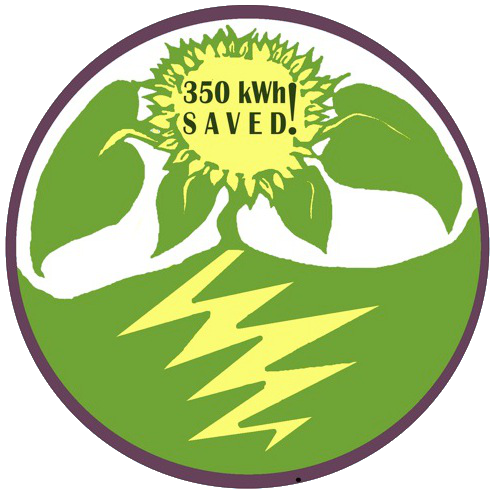 What you get out of it:
You save money on your electric bill.
When you save your first 350 kWh, you will receive a discount card for incentives from area businesses. (Discounts listed below)
Every time you save 350 kWh, your name will go into a hat for a door prize drawing in the spring of 2011. Prizes include a $5,000. value solar thermal system, a free home energy audit, and more.
There is the added bonus that you will cut air pollution.
How to figure your savings:
Compare your current electric bill with the one from the same month, starting in January, 2009. So, compare January to January, February to February, etc. See if you have cut your electricity use. Keep adding up the savings. You can do this on-line or on your paper bill. For Jan, Feb, and March 2011 bills, compare to Jan, Feb. & March of 2010 only.
Online Bill:
Go to http://www.pplelectric.com/ and log in.  If you haven't signed up for an online account yet, go to myPPL on the top menu. You will need your PPL account number when you sign up the first time.
Scroll down to the bottom 2/3 of the page and click on Bill History.
This new page will give you a 13 month history of your kWh usage.
Compare your current month with same month in 2009. Keep doing this for each month, adding up savings until you reach 350 or more.
Monthly Paper Bill: If you do not want to use the internet, use your monthly paper electric bill.
Your bill will compare the current month's usage with the same month the year before.
Find the difference between the 2010 number and the number for the same month in 2009. If the 2010 number is less, start adding up the savings from month to month. When you reach 350 or more kWhrs. let us know.
Not a PPL customer?
Pennelec also shows a comparison between the current month and the same month last year. For those of you in northeast PA who do not have either of these as your billing company, tell us how you can show your electric savings. (Your billing company is the one that provides usage information, even if you have elected to buy your energy from an alternative source.)
Report your savings: Once you have saved 350 kWhrs—this might take several months—report to us either by e-mailing your bill data to katharined@verizon.net or calling (570)698-6173. Please give the months you are reporting and the number of kWhrs. saved during that period.
Questions? Call Kathy at (570)698-6173 or e-mail SEEDS at seedsgroup@gmail.com.
We hope this will be a fun and fruitful project for all. Start saving now!
Discount List Offered by Area Businesses
Nature's Grace Health Food, Hnsdle – 10% discount
Northern Light Health Food , Hawley – 10% discount
Calkin's Creamery – buy 1 cheese, get one free
Himalayan Café, Hnsdle – 1 free small chai
Wayne Independent – 1 mo subscr. added to new or renewal
Gravity Ice Cream, Hnsdle – 1 free cone
Trackside Rest., Hnsdle – 1 small beverage
Dave's Super Duper, Hnsdle – 5% off total purchase
Day's Bakery, Hnsdle – free Danish or donut
Patisserie, Hnsdle – free coffee & cookie
ProJanAmerica Flooring, Tyler Hill – 10% off green products except stuff on sale
Sprig-n-Twig Nursery, Tyler Hill – $5. off order or free rhubarb or free horseradish
Art's for Him & Her, Hnsdle – 1 pr socks free
Vintage Bling, Damascus – 10% discount for items not on sale