East Shore Lodging
East Shore Lodging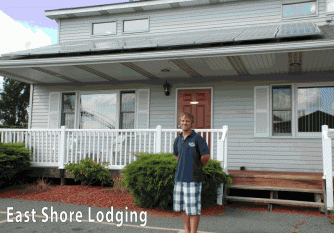 2487 Route 6
Hawley, PA 18428
(570) 226 3293
http://www.eastshorelodging.com/
No. of employees: 2-5
Years in the area: 4 generations
Most Proud of: 3 kw PV system that produces 2150 watts of electricity and provides energy to a portion of our office. Also, their in-room gust recycling program which has cut down considerably on regular garbage consumption.
Easiest Conservation Change: Signs posted for guest recycling, turning off lights, hanging up towels…guests like to take part!
Greatest Challenge: Nothing yet!
Future Plans: Implement solar thermal and expand our solar PV system.