The Himalayan Institute
952 Bethany Turnpike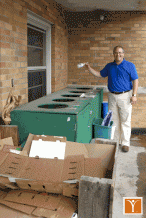 Honesdale, PA 18431
570 253 5551 or 800 822 4547
http://www.himalayaninstitute.org/
No. of employees:
Years in Honesdale: 34
Most Proud of: How conscious our residents are about our sustainability efforts. We all encourage each other, but also challenge each other to do more.
Easiest Conservation Change: Changing light bulbs.
Greatest Challenge: Monitoring and becoming aware of our energy, water and materials use.
Future Plans: Install a solar thermal system on the roof of the main building & eventually become a power producer instead of a power user!