The Wayne Independent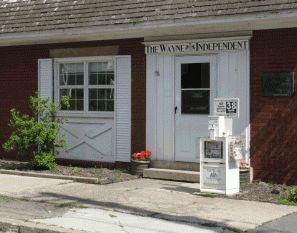 220 8th St.
Honesdale, PA 18431
(570) 253 3055
http://www.wayneindependent.com/
No. of employees: 29
Years in Honesdale: 132 years
Most Proud of: The WI has been recycling since before recycling was cool. They collect cans and bottles in their office, use single sided paper for faxes and give their newspaper returns to a local farmer for bedding. Also proud that energy conservation is a team effort in their office…everyone is on board!
Easiest Conservation Change: Changing lightbulbs to CLF.
Greatest Challenge: Costs of retrofitting such as installing solar panels.
Future Plans: Replacing desktop printers with a one networked printer.