Turano Insurance Agency Inc.
955 Main Street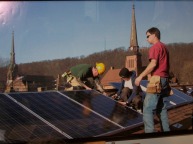 Honesdale PA, 18431
Contact: Luke Turano
Member Level: 47 Points/ Silver
Participant Since: 2010
No. of Employees: 7
Turano Insurance Inc. is very adamant about upkeep of their building. A tight envelop usually translates to savings in energy efficiency. They have reinsulated their attic with foam insulation, sealed all their windows, and installed low-flow toilets.
About five years ago they installed a solar photovoltaic system and now get paid for the electricity they create about seven months of the year. Within the past few years, they installed an electric water heating and cooling system which is fueled by the solar panels most months of the year.
The development of digital faxing has allowed them to go paperless and use 5% less paper than four years ago.
What motivated you to participate in this program? "Indirectly it's good for the community. A puzzle isn't completed until all the pieces are there. So if we can be there to help the community be more independent, that's great. We installed the solar panels in parallel with the 2010 SEEDS WBC program. It's where things are going. You can't be ignorant. We used to use a ton of paper. Also the bottom line, by already completing the tasks on the WBC application and doing some of the things we'd like to do, it lowers out bottom line. If every single business in Honesdale did as much as they possible could, the whole draw would be less."