FORUMS
Do-It-Yourself Solar Workshop – Honesdale in June 2016

Handouts:
DIY Solar PowerPoint Presentation
Solar Costs and Savings – updated June 2016
VIDEOS of first night workshop
Part 1 – Intro and Overview – Jack Barnett
Part 2 – Jack (con't)
Part 3 – Installer Blair Buselli – part 1
Part 4 – Buselli part 2
Full video of the 2 night workshop will be available soon.
_____________________________________________________________________________________________________________
---
Past Forums
2016
Tues. Mar 29th – EDIBLE YARDS
This forum was presented by an 8 person panel who shared tips on how to grow healthy food; becoming more self-reliant;  and creating a bio-diverse environment for a healthy planet.  Topics including: raising chickens, foraging, growing fruit trees and beekeeping. Panelists agreed to post their contact information if you have questions.
Nathaniel Whitmore spoke about Foraging; wathakes@gmail.com
Bobby Morgan spoke about Growing Blueberries: rskimorgan@gmail.com
Sarah Hall-Bagdonas spoke about Natural Corridors and Native Species:naturalistsarah@gmail.com
Allison Peck spoke about mixing ornamentals and edibles:apeck@ptd.net
Jessie Cacavale spoke about how to raise bees: JCaccavale@thelodgeatwoodloch.com
Ed Pruss and Kathy Dodge talked about raising chickens. Don't miss Kathy's video. Kathy@seedsgroup.net.
And Jane Bollinger talked about the Community Garden located near Ellen Memorial. Email her for further info: janebollinger05@verizon.net
This forum was videotaped. Please see Part 1, 2 and 3 below.
2015 SEEDS' Annual Membership Meeting was held at The Cooperage on Tues. Sept 15th. Food was prepared by Ant Hill Farms kitchen. Our business meeting was followed by a presentation of the highlights of last year's activities, ending with the announcement of the 6 non-profits selected to received energy efficiency upgrades as per grants SEEDS received; special guests Cheryl and Stu Badner of Corporate Waste Consultants discussed the sustainability initiatives at Honesdale's Roots and Rhythm festivals; SEEDS Chair Kathy Dodge and Pete Snyder re-introduced a skit first performed at our Smart Landscaping forum earlier this year.
Videos of the meeting are available by clicking the links: Annual Meeting Part I ; Annual Meeting part II
2015
DO-IT-YOURSELF SOLAR WORKSHOP in Sullivan County Pa. Weds. and Thurs June 24 and 25
Videos from first night: Part I; Part II; Part III
Second night sessions: Part I, Part II, Part III, Part IV; Part V
Another DO-IT-YOURSELF SOLAR WORKSHOP – Tues and Weds Jun 16 and 17 from 7 – 9 pm at the Wayne County Conservation District. This was our 3rd annual 2 night workshop on DIY solar installation. Attendees learned about how solar works, how much it costs, and receive hands on training on how to install it yourself.
Videos of Night One: Part 1, Part 2, Part 3, Part 4, Part 5, Part 6, Part 7
Videos of Night Two: Part 1, Part 2, Part 3, Part 4, Part 5
GREEN CLEANING (back by popular demand!) – Tues May 12 from 7 – 9 pm at the Damascus Community Center  at 60 Conklin Road, Damascus, PA 18415. This forum featured Dr. Carl Milks, an expert in allergies, Gudrun Feigl f Mt. Pleasant Herbary who grows herbs and flowers to make her own cleaning products, and Janet Brown, owner of Green Leaf Cleaning Partners – a residential green cleaning service. All discussed how and why to avoid harmful chemicals while cleaning your home and body. Get recipes and learn fun, safe and cheap ways to clean by watching videos of this forum. Click the links below to view the videos.
Green Leaf – Green Cleaning Brochure
Dr. Milks part I;   Dr. Milks part II;   Dr. Milks part III
Gudrun Feigl – Owen of Mt. Pleasant Herbary
Janet Brown – Owner of Green Leaf Cleaning Partners
A SEEDS newsletter reader shared the following article with us that she had written on the same topic: 11 Simple DIY Green Cleaning Products For A Healthier Home
SMART LANDSCAPING – Tues April 21st  7 – 9 pm at The Wayne County Conservation District – 648 Park St in Honesdale.    This forum was co-sponsored by the Northeast PA Audubon Society to share tips on how to save energy in your own back yard and learn how to plant for a healthy habitat.
Presenters included Jason Curtis, a landscape architect from Philly, a Wayne county native, who discussed how to plant for maximum energy efficiency, native vs. non native plant species; Tim Lauffenberger who discussed the concept of permaculture;  Kathy Dodge, who is both our SEEDS Chair, and a NEPA Audubon Board member – presented backyard habitat info and gardening tips, and Robert Muller, Manager of the Wayne Conservation District who discussed the office's history and services. Thanks to the Conservation District and The Audubon Society for donating door prize items that included a backyard landscape resource book and a mason bee house. Over 10 people left with free saplings!
2014
November 12th, PPL's E-Power Solutions Team sponsored: Reducing Energy Costs….SIGNIFICANTLY, along with SEEDS and NEPA Alliance's Energy Resource Center. 
This was a case study and "how to" session for large businesses and schools to learn how to implement energy       upgrade projects of their own, financing alternatives and grants available. Robert Rozema, Wallenpaupack School District's director of facilities presented this compelling seminar sharing details of the $12.8 million energy efficiency upgrade project and its greater than expected energy savings. Please email Jocelyn@seedsgroup.net for further information about energy efficiency rebates, incentives and grants available.
SEEDS wants to help you achieve your energy conservation goals!
October 9th – Find it – Fix it! A Home Energy Efficiency Workshop   Find It – Fix It Flyer
SEEDS presented our evening of energy saving tricks and tips at the Pike County Public Library. SEEDS was invited by the Greater Pike Community Foundation, and the event was co-sponsored by the Library. Participants learned about simple, inexpensive ways to find energy problems, and to fix them. Many of the suggestions come from the findings of our TEAAM (The Energy Awareness Action Movement) program that offers free home energy assessments in the summer months (pending funding).  Click on Checklist – Oct 2014 for 15 ways to start saving energy!   
Sept 16th  – SEEDS Annual Membership Meeting and Sustainability Innovations forum, featuring High Fuel Efficient Cars! Annual Meeting and Car Show Flyer 2 – Final
Videos:
Chair Report presented by K Dodge
Treasurer's Report  presented by D Hoffman
Executive Director's Report Part 1  and Part 2 with Approval of 2013 Annual Membership Meeting Minutes presented by J Cramer
Sustainability Innovations presented by L Reeger
Evocative Innovations presented by A Snyder
Clean Energy Co-op presented by J Barnett
July 15th – High Performance, Zero Net-Energy Homes – Flyer
Videos Part 1 https://www.youtube.com/watch?v=NKXBRg9Bm2A
Part 2 https://www.youtube.com/watch?v=OVCCAJieldc
Part 3 https://www.youtube.com/watch?v=E82iDbgFfRA P
art 4 https://www.youtube.com/watch?v=SUggiU8Dak4
June 17th and 24th  – Do It- Yourself Solar   
Please click this link for the Solar Photovoltaic Hand Out discussed at the event:   http://seedsgroup.net/wp-content/uploads/2014/06/PVPaybackFinal2014May23.pdf
Click here for the flyer  – DIY Solar Flyer
Here are documents shared at this event: 1.DIY Solar – Plot Plan 2.DIY Solar – Eletrcial One-Line 3.DIY Solar Overview 4.pathfinder report
Videos 1st Night – June 17th –  Part 1    https://www.youtube.com/watch?v=zSMxuXLRegY  and Part 2  https://www.youtube.com/watch?v=azMBIUUO-X8
2nd Night  – June 24th  – Part 1    https://www.youtube.com/watch?v=MutAzpdXdlY     Part 2  https://www.youtube.com/watch?v=07K9t_fjBTY Part 3 https://www.youtube.com/edit?o=U&video_id=0IG13e-r0g0  Part 4 https://www.youtube.com/watch?v=n9whAHJ8Gfw     Part 5 https://www.youtube.com/watch?v=2AvuikK4w8w
Several documents were shared at this event. Click the links below to access: 1. Green Leaf Cleaning Recipe brochure – GreenLeaf Forum Brochure 2. Green Cleaning Sources and How to Make your own SwifferSwiffer and Sources 3. Mount Pleasant Herbary Cleaning Recipes More information about Mount Pleasant Herbary and their products can be viewed at:
Dr. Carl Milks (Board Certified Asthma, Allergy and Immunolgy) recommended the following articles:
April  15th – LOCAL FOOD HUB FORUM
This event packed The Cooperage with over 70 people on a snowy night in April. Attendees included local farmers, SEEDS members and folks interested in learning more about how to match local food production with demand. Speakers included Bob Muller from the Wayne Conservation District, Andy Whyte from Wayne County Office of Human Services and others present including Commissioner Brian Smith.
Click below to read Skip Mendler's article published in the Wayne Independent.
Food Hub Article page 1. Food Hub Article – pg 2
Mar 18th  – HEATING YOUR WATER EFFICIENTLYHeating Your Home and Water More Efficiently Flyer
Listen to Gordon Smith on WJFF's Radio program for a preview of the Heating Your Water Efficiently forum….his discussion occurs at minute 14 of the hour long program. Making Waves – Monday, March 3, 2014 8PM – DOWNLOAD
Feb 18th  –  HEATING YOUR HOME MORE EFFICIENTLY
This was our first forum of the year, and the first in a two part series on how to heat your home and hot water more efficiently. Presenters for both events were SEEDS Advisory Committee members Gordon Smith and Larry Reeger.
---
2013
January 29 – Energy Efficient Lighting for Your Business  – Energy Efficient Lighting Luncheon
Seminar for area businesses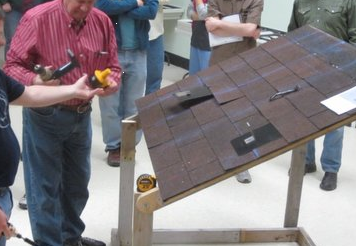 April – 3 night workshop – Do-It-Yourself Solar Installation – DIY Solar Press release[1] Oct 8 – Find It – Fix it! A Home Energy Efficiency Workshop – cosponsored by PPL at their Wallenpaupack Environmental Learning Center – Find It – Fix It Flyer
---
2012
April 17 – All Things Solar March 20 – Solar PV #3 May 15 – Round Buildings:  Living Outside the Box June 19 – Climate Change: Is it Real? Is it a Hoax? September 22 – Insulation October 20 – A Financial Analysis of Renewable Energy: Solar Power
---
2011
May 24, 2011 – Shades of Green in Construction and Renovation Part 2 April 26, 2011 – Shades of Green in Construction and Renovation Part 1 March 29, 2011 – Everything You Always Wanted to Ask About Sustainable Energy April 26, 2011 – Green Building  Part 1 May 24, 2011 – Green Building  Part 2 June 21, 2011 – Electric Car and Tractor Conversion July 26, 2011 – Bio Fuels from Farm to Home Heat September 20, 2011 – Straw Bale Building October 24, 2011 – "Do-It-Yourself" tips for Weatherizing Your Home  To be held at the PPL Lake Wallenpaupack Environmental Center in Hawley, PA.
---
2010
April 27, 2010 – Residential Wind Power ; Sept 14, 2010 – Get Renewable Energy Through The Grid
This was also the year SEEDS launched 350 Saved, (350 kWh Saved – press release) and Wayne Businesses Conserve (WBC)
---
2009
July 11, 2009 – Home and Hearth Series: Insect Tour June 13, 2009 – Home and Hearth Series: Weed Identification May 12, 2009 – Food Sovereignty April 25, 2009 – Home and Hearth Series: Visioning in the Garden April 21, 2009 – Do It Yourself Energy Conservation March 10, 2009 – Western Wayne's New "Green School" February 10, 2009 – Do It Yourself Energy Conservation
---
2008
December 16, 2008 – Geothermal Energy November 18, 2008 – Solar Power October 14, 2008 – Energy Audits for Home and Farm October 11, 2008 – Home and Hearth Series: Fermented Foods September 27, 2008 – Home and Hearth Series: Seed Saving September 16, 2008 – Forest Fuels August 30, 2008 – Home and Hearth Series: Herbal Healing and Harvest August 23, 2008 – Home and Hearth Series: Making Contact with Nature August 19, 2008 – Water Conservation July 15,  2008 – Individual Wind Power in Northeast Pennsylvania