September 1, 2016
SEEDS (Sustainable Energy Education & Development Support) will present a FREE Solar Workshop from 7 to 9 PM on Thursday September 22nd at Pike County Public Library Milford Branch, 119 East Harford Street, thanks to a grant from the Greater Pike Community Foundation.
Registration is encouraged. Please see below for details.
This 'Solar 101' course will teach you all about the different types of solar systems, how they work, how to evaluate your home or business for solar, how much it costs, and how to take the next steps. SEEDS will provide information on rebates and incentives, local solar installers and even an option for Do-It-Yourselfers.
Come learn why so many people are interested in going solar!
The session will discuss how the different technologies work, how to calculate financial payback, and installation techniques and concerns. The presenters will show samples of solar equipment and tools. The workshop will also be very helpful to businesses or non-profits who want to lower their energy consumption and/or generating their own electricity.
(Blair and Bill Buselli conduct a hands-on-training at a previous SEEDS DIY Solar Workshop)
The SEEDS presenters will include:
Jack Barnett – a principal consultant in sustainability, solar, zero net-energy buildings, and telecommunications technologies and strategy; a past chair of a chapter of the American Solar Society; and President of the local Clean Energy Cooperative. Jack is a SEEDS Board Member.
Blair Buselli – is a NABCEP (North American Board of Certified Energy Practitioners) certified solar installer, and native of Wayne county. Blair is a partner in the family-owned Buselli Solutions in Beach Lake PA. Blair currently serves on the SEEDS advisory committee.
"SEEDS' mission is to educate our community about renewable energy, how it can save us money and improve the quality of life in our community," says Jack Barnett, one of the workshop coordinators.  "If you want to attend this workshop just to learn more about solar economics or how it works, without investing in a system, that's fine. And, if you thinking about investing in solar, this is definitely a valuable workshop for you."
Although SEEDS has presented dozens of workshops in Wayne and Pike counties and elsewhere, this will be its first exclusively on solar in Pike County. The session is free and open to the public.
Registration is encouraged. Please email jocelyn@seedsgroup.net or call (570) 245-1256.
To learn more about SEEDS, you can visit our webpage at www.seedsgroup.net. You can also sign up for a FREE monthly SEEDS newsletter on our website by clicking the SIGN UP FOR OUR NEWSLETTER button on our home page. This newsletter will announce all free SEEDS forums and programs as well as share sustainability initiatives in our region.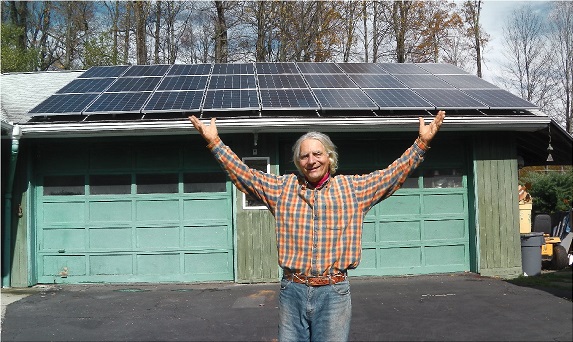 Martin attended a 2014 DIY Solar Workshop and installed his own system shortly afterwards)
SEEDS is a non-profit organization based in Honesdale, PA serving neighboring counties. SEEDS promotes energy efficiency, renewable energy and sustainability in our region. Our goals include improving the health of our environment and our local economy through energy savings and independence. To learn more, www.seedsgroup.net