May 22, 2018
YOU DID IT! You helped make the SEEDS Annual SWAPAPALOOZA Fundraiser, our most successful yet!
SEEDS (Sustainable Energy Education and Development Support) celebrated its 10th anniversary with their largest, and most successful fundraiser yet. The event, held recently at The Cooperage, featured Mistress of Ceremonies Mikki Uzupes, a silent auction, live auction and their annual SWAPAPALOOZA! To reinforce an important sustainability practice: Re-use, Re-pupose, Recycle – the SWAPAPALOOZA allows guests to bring 1 item they no longer love, and SWAP it for another. The fast-paced SWAPAPALOOZA is a lot of fun each year, and allows guests, who are spending their dollars to support SEEDS' mission, to take home a new treasure for free. Guests were treated to dinner and desserts catered by Mustard Seed Café. This year's event drew nearly 90 people and slightly surpassed their fundraising goal!
The SEEDS fundraiser auction always features unique community service items including: guided bird walks, home cooked meals, leaf blowing, poetry readings, photography session, art lesson, eagle watch bus tour, massage therapy and a fall foliage aerial tour of Wayne County in a  Cessna 210! SEEDS has made a point to include these donated services, which allow folks to meet new people, make new friends, to learn more about the talented people in our area, and explore the natural world around us. In addition to these services, guest could bid on restaurant certificates, coffee, craft beer, hotel stays, artwork, antiques, maple syrup, alpaca yarn and so many wonderful gift baskets and certificates.
In addition to all the folks who attended, donated, and bid on items, to make this our record breaking fundraiser to date, SEEDS would like to extend a special thank you to the following organizations who support the SEEDS mission with their donations: A Picker's Find, Augusta Acres, B. Madigan Jewelry, Bethany Senior Village, Black and Brass, Community Vocational Services, Delaware Highlands Conservancy, The Cooperage, Mustard Seed Café, Dorchester House Antiques, Eye Candy Body Arts, Fair Hill Riding Academy, Fertile Valley Farm Store, Gina Lenz Photogrpahy, Green Outlet, Hawley Antique Exchange, Here and Now Brewing Company, Honesdale Agway, Honesdale Massage, Irving Cliff Brewery, James Manning Bed and Breakfast, Joe and Lorenzo's Italian Restaurant and Pizzeria, Journey's End Farm, Lacawac Sanctuary, Lake Region IGA, Mother Hen Art Studio, Mt, Pleasant Herbary, North of the Border Fireworks, Old School Farm, Picture Perfect Framing Gallery, Pines Tavern, Stephen's Pharmacy, Time Machine Antiques and the Wayne County Historical Society.
SEEDS (Sustainable Energy Education & Development Support) of Northeastern PA promotes energy efficiency, renewable energy and sustainable living. To learn more, visit SeedsGroup.net.
(MC Mikki Uzupes and SEEDS Director Jocelyn Cramer)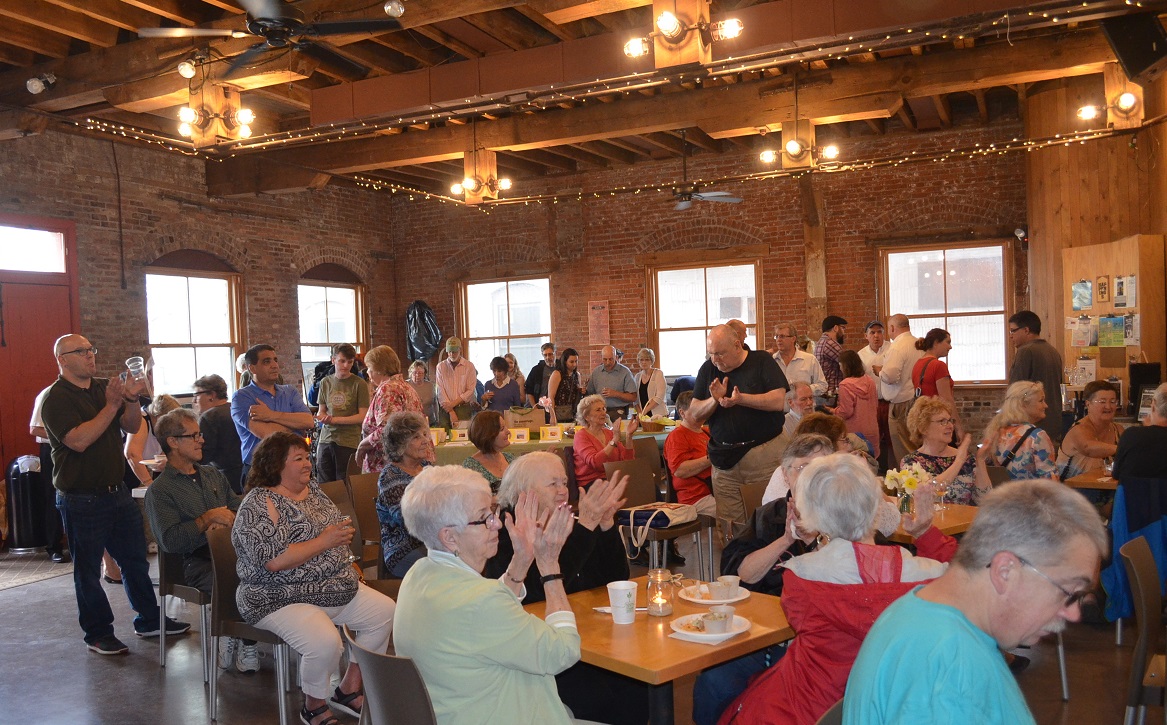 Crowd at The Cooperage for SEEDS' Annual SWAPAPALOOZA Fundraiser