About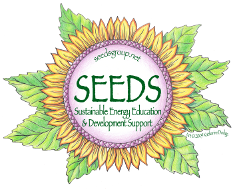 SEEDS is a community-based organization in Northeastern Pennsylvania committed to developing a local renewable energy infrastructure and promoting more sustainable living in our area. SEEDS was founded in 2008 by a group of passionate, engaged communities members and in 2009, registered as an official 501c3 non-profit.
To create a market for local renewable energy infrastructure, SEEDS organized 6 hands-on training workshops that focused on Solar Photovoltaics, Solar Thermal, and Small Scale Wind. Each workshop was an intense three to five day session with highly qualified certified instructors at reasonable cost, drawing trades-people from neighboring areas and states. These trainings provided nearly 60 local contractors, residents and business professionals with hands-on installation experience and top of the line training in renewable energy. Several of these trainees have earned Pennsylvania Sunshine certification. Two have achieved certification from the North American Board of Certified Energy Providers, NABCEP, and now own successful solar installation companies.
To further it's aim, SEEDS works closely with more than 15 local organizations in northeastern Pennsylvania including the Wayne Conservation District, Workforce Wayne, the Pike and Wayne Cooperative Extension offices, the Wayne County Library system, Johnson College, Northampton Community College, the Pocono Northeast Resource Conservation and Development Council of the USDA, PPL Electric Utilities and the Northeast Pennsylvania Audubon Society.
For its continued efforts, SEEDS received the Green Powerhouse Award from the NEPA Business Journal in 2009, was named the Green Power Hero for 2011 by PennFuture, and was cited by the Northeast Pennsylvania Environmental Council with its Environmental Partnership award in October of 2011.
SEEDS has been encouraged by the enthusiasm of the community to embrace renewable energy and conservation through its many forums and renewable energy training.
SEEDS regularly holds public forums which have been well-attended and covered such topics as:
Water Use, Conservation and Power
Small Scale Wind Power
Forest Fuels  and BioMass
Energy Auditing for Home and Farm.
Insulation
Solar Photo Voltaic and Solar Thermal
Geothermal Heating and Cooling
PPL's Smart Metering program
Do-it-Yourself Energy Efficiency Tips
New Green School Construction in Hamlin, PA.
Tax incentives and rebates for alternative energy
Growing & preserving food supplies
Green Building
Straw Bale Building,
Electric Vehicle Conversion
In 2010, with the removal of electricity caps for most of our region, SEEDS sponsored two "350" initiatives. 350 is the internationally accepted number for the "safe" amount of parts per million of carbon in the atmosphere.
350 kW Installed SEEDS set a goal of region-wide small wind and solar renewable energy installations totaling 350 kWs.  Not only have we surpassed our goal but Wayne County is now 3rd in the state in PV installations per capita, at an average cost per kilowatt of $.50 below the state average.
350 kW Saved! SEEDS used discounts, publicity, and prizes to encourage local residents to save 350 kilowatt hours over last year's usage.   36 families saved a total of over 114,000kWhrs of electricity equal to about $16,000 on their electric bills and 85 tons of CO2 kept from the atmosphere.  
In the summer of 2010, SEEDS recruited Workforce Wayne and PPL EU to develop a pilot project Wayne Businesses Conserve! with 10 local businesses and organizations, finding ways to conserve energy and save on their bottom line.  That program is being relaunched in 2012 with another grant from PPL EU to reach even more businesses.
During the summer of 2011, with The Energy Awareness Action Movement, SEEDS performed 80 free home energy audits in Wayne and Pike Counties.  Designed to make residential energy conservation convenient and easy, TEAAM provides local high school students with great jobs and local residents with free energy assessments and recommendations for saving energy and money in their own homes.  This program will continue in 2012