May 3, 2018
ANOTHER REASON TO VISIT WAYNE COUNTY!   
  SEEDS Announces 2018 Do-It-Yourself Solar Workshop: June 13 &14 
This year's 2 night workshop will include an actual solar installation at Lacawac Sanctuary. Attendees may participate in June 23 workday for further training. 
REGISTRATION IS REQUIRED. Click HERE to register. 
Learn how solar works and how much it costs
Learn if your roof is well positioned to generate solar electricity
On-site demonstration and hands-on practice
Solar orders may be placed if interested (not required)
2018 BONUS: Optional Installation Workday June 23  (rain date June 24)
Presenters Include:
Blair Buselli –  PA/NY approved & NABCEP Certified Installer (The North American Board of Certified Energy Practitioners) of Buselli Solutions, Beach Lake, PA.
Jack Barnett – A principal consultant in sustainability, solar, zero net-energy buildings, telecommunications technology and strategy; Past chapter chair of the American Solar Society, & President of The Clean Energy Co-Op.
Registration is required plus suggested $10.00 donation.
Visit www.seedsgroup.net to register, or click HERE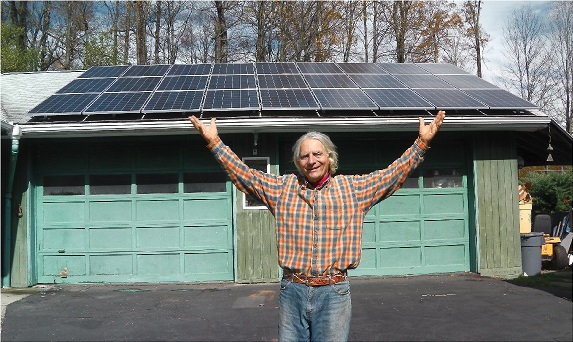 SEEDS member, Martin Springhetti celebrates the completion of his DIY Solar Installation
To plan your stay in Wayne County,
Visit: www.visitwaynecounty.com