March 8, 2013
SEEDS offers Group Rate Pricing –  Cheaper by the half dozen – Six more roofs in our area will soon get solar power!!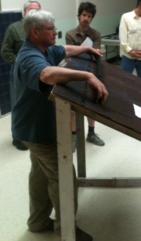 SEEDS sponsored a DIY Solar workshop in April, conducted by Martin Young, an experienced local solar installer who got his original training from a SEEDS-sponsored course. The seminar was held Tuesdays – April 16th, 23rd and 30th in the Honesdale Park Street Complex from 7 – 9 pm each night. The workshop was free and open to the general public, and resulted in six orders for solar kits for our area!
The first night offered an overview of Do-It-Yourself (DIY) Solar , including costs, payback, and the return on a solar  investment.  Evaluation of sites for rooftop solar was also discussed, and tips about new smart phone apps that help with the evaluation, were shared. Martin also offered advice on how to create drawings which are required for township permitting.  Basically, the information required to make a decision about whether to proceed with a solar installation was covered. 64 people attended our first session.
During the second evening of the workshop, people began to do the actual work involved. All the equipment required to connect the inverters to panels, and panels to racking was there, including a solar panel, weighing approximately 45 pounds. Martin encouraged folks to pick it up and feel the weight of it. Loading these on to the roof top is one of the most difficult aspects of a DIY solar installation. Members of the SEEDS Solar Committee built a roof top section that was used for demonstration. Participants went through the process of mounting the rack and panel.  Martin provided many helpful tips during the workshop, including several comic anecdotes from the many installation projects he has worked on. The workshop was very informative and engaging.  SEEDS provided baked goods and an atmosphere for friends to begin to collaborate.  Nearly 40 people were in attendance for the second night, and friendships were starting to form. A couple of folks were offering their help with another's installation in exchange for help with their own.
The third and final session was a more intimate discussion among the remaining 23 attendees who were interested in making a DIY Solar Installation kit purchase. Martin addressed individual questions, and talked about the future of solar. It was his opinion that the current technology and efficiency in solar panels will not be outdated for years to come. It was emphasized that the decision to install solar is very much a financial one, and the return on the investment of the outlay of money for solar power was reviewed. Martin explained how he could help those ready to purchase now by shopping for the group's total number of panels, rather than folks buying their own individual kits.   Six people signed up for 14 panel Do-It-Yourself Solar kits. That is a total of 84 panels, which Martin can price more competitively than a smaller order.  This group of 6 will join an online forum to communicate with each other throughout the installation process, sharing advice and helpful hints.  Six other participants who were not quite ready to order, already signed up for a potential second round of orders.
It was an exciting and successful workshop that provided not only a group rate purchase price opportunity, but also provided group support and camaraderie.
More Solar Photovoltaic (PV) panels on homes in our area helps promote renewable energy here, and helps homeowners with their energy costs.  Toward this end,  SEEDS hopes to continue to offer this workshop every year, or twice a year, if there is enough demand.  SEEDS will also be making training videos, and improving our workshops based on feedback from those who attended.  SEEDS would like to thank all who attended, Martin Young for the time and effort put into this series, and The Conservation District office for providing a wonderful space for this workshop.
For any questions on future solar workshops, or our upcoming free home energy assessments this summer, please contact the SEEDS office at (570) 245-1256 or email info@seedgroup.net