December 29, 2016
PASA – Pennsylvania Association for Sustainable Agriculture has announced its 2017
Finding Hope and Healing through Farming
26th Annual Farming for the Future Conference dates – Feb 1 – 4, 2017.
Please see their press release below with full details.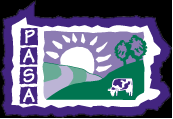 NEWS RELEASE
Contact name: Kristin Hoy
Phone number: (814) 349-9856 x11
E-mail address: kristin@pasafarming.org
FOR IMMEDIATE RELEASE
December 20, 2016
Finding Hope and Healing through Farming
26th Annual Farming for the Future Conference Registration is Open
Millheim, PA – The Pennsylvania Association for Sustainable Agriculture (PASA) presents the 26th Annual Farming for the Future Conference in February at the Penn Stater Conference Center in State College, Pennsylvania. Full day tracks take place Wednesday, February 1 and half day sessions on Thursday, February 2 for in-depth learning. On Friday, February 3 and Saturday, February 4, attendees will enjoy keynotes, workshops, discussion sessions, and many opportunities for networking.
This year's conference theme is 'Hope, Farm, Heal', recognizing the inextricable link between sustainable agriculture and healing through regenerative processes both within the natural ecosystem, as well as within human society. The year's theme recognizes such agriculture as a cornerstone for our collective hope, moving forward.
Over the course of the conference, agricultural leaders from all over North America will gather to share their wisdom and experience with attendees. On Friday, keynote speaker Janisse Ray – activist, naturalist, and internationally-recognized poet and writer – will speak about healing ourselves and our ecosystems, and finding hope in nurturing a relationship with nature. Saturday's keynote speaker, Gabe Brown, will speak to his family's holistic management practices on their farm and ranch in North Dakota, and the promise such practices hold for the health of farms, farmers, their communities, and the ecosystem.
Full-day tracks on Wednesday and half-day sessions on Thursday provide the opportunity to focus on specific topics including soil health, strawberries, grazing, organic grains, data-driven farming, lean farming, commercial herbs and forest-grown medicinals, and adapting to climate change. Friday and Saturday schedules consist of multiple workshops and focus group sessions spaced over the course of the day. Grazing consultant Sarah Flack, lean farming guru Ben Hartman, fruit specialist Lee Reich, and biological farming expert Dan Kittredge are just a few of the featured speakers this year.
PASA's Farming for the Future conference is both a rigorous exploration of the current state of sustainable agriculture, policy, and practice, as well as a gathering of the sustainable agriculture community: farmers, homesteaders, educators, industry professionals, and more, from the Mid-Atlantic and beyond. Educational programming is complemented by many other special events, including early morning yoga sessions, a seed swap table, knitting circles, a movie screening, and live music and dancing. Recognizing the 'family' in 'family farm', the Future Farmers program offers parents the chance to fully engage in conference programming while their children engage in their own conference: three different care programs for three different age groups, from kindergarten up to 8th grade.
Finally, the Farming for the Future trade show annually represents the leaders of the sustainable agricultural business community. You'll find seeds, dairy equipment, tractors, soil mixes and amendments, hand tools, books, greenhouses, business consultations – all the tools a farmer needs to succeed (and a few others, besides) – on display.
Registration is required to attend. Pre-registration closes on January 24, 2017. On-site registration is available, at increased rates, after January 24th. For more information please call (814) 349-9856 or visit pasafarming.org/conference.
PASA thanks Opening Keynote Sponsor Lady Moon Farms and PASAbilities Sponsor Kimberton Whole Foods for their generous support of this annual event.
About PASA
The Pennsylvania Association for Sustainable Agriculture (PASA) is one of the largest and most active sustainable agriculture organizations in the U.S. Through our SOIL Institute education programs, regional marketing assistance for farmers, advocacy, and public outreach, PASA seeks to promote profitable farms that produce healthy food for all people while respecting the natural environment. PASA's hallmark event, the Farming for the Future Conference, draws thousands of participants from more than 30 states and six countries each February. For more information, visit pasafarming.org.