December 7, 2016
The Free Book Swap aims to provide area residents and visitors with a venue for parting with beloved paper-filled treasures while looking find some "new" books to take home.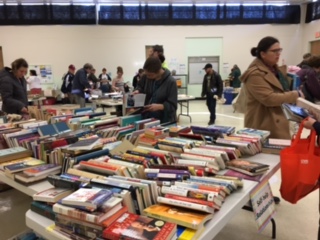 This year's event brought 10,500 books and 400 people to the Wayne County Park Street Complex for the Fifth Annual Free Book Swap. A little over 4,500 pieces of media were taken to a new home with Wayne County's friends and neighbors, about 200 books were donated to the Wayne County Prison, and 2,500 lbs were donated to Better World Books to support global literacy efforts.
This year, a repair station for books was made available, so even some books that needed a little TLC could be shared.
Volunteers were essential to the success of this event and the rehoming of as many books as possible! These persons counted and sorted the books into their broad categories, and assisted attendees. This year, 15 volunteers donated a total of nearly 70 hours over 4 days. Thanks to the Free Book Swap sponsors, each volunteer received a free t-shirt… and first dibs on any books! Lunch was provided on Friday and a generous donation of snacks were available to them during the main event. If you're interested in joining a welcoming team of like-minded, literacy-lovin' neighbors, email Jenna at jw1704@gmail.com.
Do you have books you'd like to see go to a new home? Follow www.freebookswap.wordpress.com for the 2017 event dates. Large donations are appreciated pre-counted and dropped off prior to the main event. Drop offs are also welcome on event day. Check out photos from this year's event at www.freebookswap.wordpress.com/about-2.
Take a moment to thank the following sponsors for their generous contributions! Advertising Sponsor: Honesdale National Bank Book Sponsors: Frey-Fetsock Funeral Home, Inc. and Brookfield Renewable Gold Community Sponsors: SEEDS (Sustainable Energy Education Development Support), NBT Bank, and the McCabe Mortgage Group of Benchmark Mortgage Silver Community Sponsors: Keep Northeastern PA Beautiful and Platform Industries
Contact: JENNA MAUDER
PHONE: (610) 392-7219