February 7, 2022
Local News
Highlights Foundation Named 2022 Green Business of the Year
SEEDS is happy to announce that, in partnership with the Chamber of the Northern Poconos, The Highlights Foundation in Boyds Mills has been awarded the 2022 Green Business of the Year Award.
In 2019, Highlights Foundation adopted an Energy Mission Statement, which was "to lead the way in a transition to net positive energy usage at Boyds Mills by end of 2021 via creation of an energy management plan and its implementation, while providing educational opportunities to those who are touched by this property."


Since then, they have:
Installed a 30kW solar array roof mount to power the retreat center.
Installed a 105kW solar array on the property.
Added spray foam insulation in the floors of cabins.
Installed mini-split heat and air conditioning units in 23 cabins.
Integrated energy management software to oversee a more efficient use of power on the campus.
SEEDS Executive Director Olga Trushina stated, "Highlights has shown that adopting sustainable energy goals can also be financially sustainable and educational. It was a grandiose mission at first, but Highlights has managed to make significant progress even in the face of a pandemic, never losing sight of what they set out to do. I'm proud to have them as a neighbor and a model for organizational stewardship in our community."
Past award recipients include the Cooperage Project for a solar project and efficient boilers, Leeward Construction for using recycled blacktop, Nature's Grace Deli for a solar PV installation, Stephens Pharmacy/Northeast Med-Equip for creating an employee "Green Team", Wayne Memorial Hospital for eliminating Styrofoam, Himalayan Institute for a commitment to zero waste, Wayne Highlands School District for on-site food waste composting, The Ledges Hotel for various eco-friendly initiatives, and the Car Wash on Route 6 for water recycling, and using energy-efficient equipment and environmentally-friendly detergents.
Local News
Solar in Hawley Update
In the SEEDS January Newsletter, the #SEEDSGoodNews entry shared an exciting story of a large solar farm potentially being constructed in Hawley, PA.  The story quickly generated positive buzz in our community and beyond, a reaction that reveals the eagerness for positive news regarding increased access to renewable sources of energy, as Pennsylvanians continue their wait for legislative action that would allow Community Solar in the state.  This story was just coming into public attention when the January Newsletter was compiled, and used information published in the Tri County Independent which unfortunately contained inaccuracies, some of which were repeated by us.
The most updated and correct information regarding the potential solar farm in Hawley follows: ECA Solar, a company headquartered in Waltham, Massachusetts, has proposed the construction of a 19 acre solar farm situated on 50 acres of land in Palmyra Township.  To be located behind the Lake Region Dime Bank, east of downtown Hawley, off Route 6 near Harmony in the Woods, the solar farm would include 412 racks to hold 9,878 panels, which would span the 19 acres, as well as access lanes, cleared space, landscaping buffer and storm water collection areas comprising the rest of the 50 acre space.  This solar farm is expected to generate 3.7 megawatts of electricity, which ECA has proposed to offer to Wallenpaupack Area School District to power their facilities, or, alternatively, 600 homes in the area.  A third-party contractor has been assessing ECA's project with regard to its incorporation into the Wallenpaupack Area School District campuses, and a presentation is expected at the February 14 Board of Education meeting detailing that assessment.
The enthusiasm with which this story spread inspired us to share more informational sources regarding solar power to educate neighbors and members.  Please see the piece in this issue, Solar Power DYK with Jack Barnett, and check out the March Newsletter which will update our readers regarding this solar farm project after the Wallenpaupack Area School District February Board of Education Meeting.
Have any questions regarding solar sources of power, but an internet search isn't quite quenching your curiosity? Email us at info@SEEDSgroup.net with your questions and we will share them as well as answers on social media and this Newsletter.  Here at SEEDS, Education is our middle name!
#SolarDYK
Solar Did You Know with Jack Barnett
Part 1: Solar Array Capacity
Over the years, many SEEDS members have forwarded to us various solar installation proposals they've received as they have sought to install solar panels at their homes. As a general rule, SEEDS always recommends getting quotes from multiple certified contractors before selecting one. In this series I will go over some key points to help you compare and evaluate those proposals should you receive them.
The first key point to look for as you evaluate a proposal from a certified solar contractor is the array capacity, which is the electrical generation capacity of their proposed solar array.  This number will be  presented as a measurement in kilowatts or kW and it is based on standardized testing.
There may be two versions: Direct Current (DC) or the Alternating Current (AC). The DC version is what we want to use for comparison. The AC capacity will always be a smaller number and is mostly for relaying to the power utility company, who would be concerned about the connectivity to their AC grid.
For rooftop solar, the capacity is mostly limited by how many solar panels can fit into the available unshaded roof space. Some building codes may further require setbacks from the edges of your roof, which would limit available space more, but that restriction usually depends on the usage and occupancy of the building; for instance, unattached garages are different from residences and would have different building code restrictions. It is the contractor's responsibility to check with your township's code enforcement officer to determine the setback distances required by your specific roof.  You should be aware that often contractors can leave out this important step in their initial proposal, instead proposing to cover all your roof, only to then have to reduce the array size during the building permit application.  If this is the case, the contractor should reduce their initial price correspondingly, but they may not offer to do so although it would have meant that they got your business by skipping a step they should not have.
Be aware that on February 15, 2022 Pennsylvania will be updating its default building codes to the UCC-2018 version, where previously it was UCC-2015, but individual jurisdictions will have the final determination.  For the homeowner this change may not amount to much, but it could be very important for the installer. One important change would reduce the amount of setback required on a residential roof for the panels from 3ft to 18in, a change that would increase area available on the rood for more solar panel installation.
Next up in this Solar Did You Know series we will be looking at the "who" of your solar installation proposal, and sharing the kinds of questions you should be thinking about with regard to who manufactured the panels and who is installing them.
If you have questions relating to solar power or solar panel installation send them to us at info@seedsgroup.net.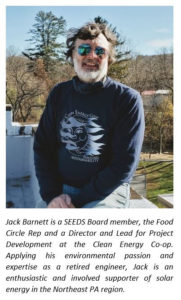 Local News
SEEDS, Clean Energy Co-op Present to Communities
On January 14th, the Clean Energy Co-op presented at the third webinar of the "Watts & Learn" series hosted by the PA Solar Center.  The theme for this series was "Shared Solar Approaches in Pennsylvania," and the event focused on solutions around the limitations to Community Solar due to the current laws in Pennsylvania.  Also presenting at that webinar was David Hommrich of the Sunrise Energy LLC and appellant in a recent Pennsylvania Supreme Court case, the ruling of which PA Solar Center explains "overturned some of the Public Utility Commission rulemaking regarding virtual net metering, opening up an opportunity for some shared solar projects."  Other presenters included Todd Fryatt of ECA Solar, whose 19 acre solar project is proposed in Hawley, PA; Matt Mahoney, Director of Government Affairs, PA Solar Center.  The webinar was moderated by Sharon Pillar, Executive Director of PA Solar Center.
If you were not able to watch that webinar, there was a similar presentation at this month's North Branch Friends Meeting, which you can watch here.  In addition to information about the history of the Clean Energy Co-op, details of how and why it formed as well as how it functions and how to join or participate, the presentation included information about projects financed by the Co-op.
The meeting opened with a poignant, impassioned story of the founding of SEEDS by Michele Sands, as she recounts the birth of the organization out of need for sustainable stewardship amid energy changes of the 2000s.  Kathy Dodge, SEEDS Chair, gave a full and detailed presentation on SEEDS, its history, role and functioning within the community.
If you are looking for thorough information about what SEEDS or the Clean Energy Co-op does, or would like to share it with others, the presentations in this video offer a thorough primer on both organizations.
#SEEDSRecommends
Grid Magazine x FABSCRAP: Textile Recycling in Philadelphia Panel
On January 17, 2022 Grid Magazine presented a panel discussion on the current state of fabric waste and fabric recycling, focusing especially on the Philadelphia area.  This hour long recording of the event available on YouTube presents a wealth of information on this topic (skip to 13:50 for the start).  For the event's summary, see the description here.
SEEDS Executive Director Olga Trushina watched the event and recommends it to the SEEDS community to learn more about issues pertaining to fabric waste, obstacles to fabric recycling, and steps forward to tackle the problem.  She learned that most of the fabric recycling initiatives that happen are geared toward pre-consumer waste, or towards the people who create the clothing, like fashion designers, and recycling from large pieces of fabric to small scraps. This is the hole that the organization FABSCRAP is trying to fill. One of the biggest issues is lack of access to fabric recycling technology, and data to deeply analyze the problem. There is no fabric-to-fabric recycling in US, such as cotton scraps to cotton fabric. One reason for this is the difficulty in identifying the type of materials in fabric. Most fabrics are mixed, so because of this the best thing to do is to buy one type of material, preferring natural fabrics (cotton, wool, linen) to fossil fuel fabrics (polyester, spandex, etc.) Another reason to prefer natural fabrics is because microplastics are released each time you wash petroleum-based fabrics.
Olga also shares that, according to this presentation, the biggest obstacle to getting fabric-to-fabric recycling is lack of knowledge about what the fabric is. Ideally, the same mantra should be used for fabric as plastic: reduce, reuse, recycle. Another issue is the lack of accountability from fabric manufacturers about their fabrics not being recyclable. In terms of grassroots approaches, an actionable idea suggests that people ask their favorite brands what they do with their fabric waste and for the details of their waste-reduction plan, which voices consumer concern that these issues are addressed at the production level.
Do you have other ideas for how to tackle fabric waste in your community? Share them with us by emailing us at info@seedsgroup.net or tag us on social media.
#SEEDSGoodNews
New Material to Increase Window Energy Efficiency
There seem to be many stories documenting technological advances contrary to future sustainability, and it's easy to feel overwhelmed by reports about the environmental costs of Bitcoin and cryptocurrency, a convenience industry that has increased single use plastic production exponentially, or the potential harm caused by the mining of the metals used for many of our electronic devices.  This is why it is important to celebrate and promote the kind of technological advancements with sustainability at their forefront.
According to this Energy News Network article, a startup company in Cambridge, Massachusetts has developed a clear material that can significantly increase the insulation of glass with much less bulk—and at lower cost–than is now available to manufacturers.  The article explains how windows always pose an energy efficiency problem, citing that, "[h]eat lost or gained through windows is responsible for up to 30% of the energy used to heat or cool a home, the federal Department of Energy estimates."
Kathy Dodge, SEEDS Chair and Energy Circle Representative, believes it is important to focus on the "efficiency first" foundational principle of SEEDS and our mission, "While installing alternative energy sources is an exciting direction, it's not the most actionable step for many people; maximizing the efficiency of the energy we have available to us now is."  Technological advancements that focus on increasing the efficiency of structures aligns to this principle, especially when these advancements focus on making materials affordable and accessible.  The windows that could be constructed using this technology can have a huge impact on the heating and cooling costs of structures, residential and commercial, requiring less energy regardless of its source.
If you are interested in maximizing the energy efficiency of your home or business, remember that SEEDS members have access to a free Energy Assessment.  For more information go to our website or email info@seedsgroup.net.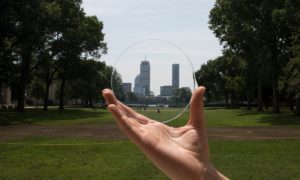 #SEEDSGoodNews
Do you have any #SEEDSGoodNews stories to share with the SEEDS community? Send them to us at  info@seedsgroup.net or tag us on social media!  They can be local stories from your community, or stories from around the world–anything to celebrate and spread the word about the progress of energy efficiency, renewable energy or sustainable living wherever you hear about it!