SOLAR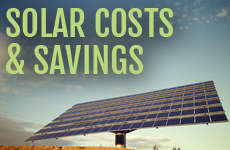 WHAT'S THE PAYBACK FROM A SOLAR PHOTOVOLTAIC (PV) SYSTEM?
Solar Costs and Savings – updated June 2017)
By Jack Barnett and Jim Sanders, Sustainable Energy Education and Development Support (SEEDS)
You've heard it somewhere, if not from SEEDS: the prices for solar panels have fallen over 50% in recent years. So is investing in a solar electric system for your home the right thing to do? There are lots of reasons to want your own solar system (e.g. energy independence, reduced pollution, reducing your home's carbon footprint, etc.), but let's focus simply on the financials and explore the details of how to answer this question for yourself.
Click to read Solar Costs and Savings – updated June 2017