November 27, 2018
SEEDS – Become a Part of the Solution!
SEEDS (Sustainable Energy Education & Development Support) has been promoting sustainability in this region for 10 years, and we're making a difference. Join the SEEDS group and become a part of the solution!
Each December, SEEDS asks all of you to consider supporting our organization with a donation. The first $10 of each donation is applied to membership, and allows all of you to become a part of our growing SEEDS group. Here is a copy of our year end letter: SEEDS 2018 Year-End Appeal letter
To make a donation, please visit www.SeedsGroup.net and click the DONATE TODAY button.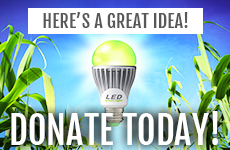 (Alternatively, you can mail a check payable to SEEDS: 1030 Main St; 2nd floor; Honesdale, PA 18431)
Since 2008, SEEDS has promoted renewable energy, energy efficiency and sustainable living in this region; to improve the health of our environment, our economy and ourselves.
SEEDS IS GROWING
SEEDS is proud of the larger role we now play in our region's sustainability initiatives: serving on Wayne Tomorrow; and participating in a PA statewide initiative Finding PA's Solar Future.
2019 NEPA GREEN FAIR  – Sat April 27, 2019 in Nay Aug Park in Scranton
We are also working with The Greenhouse Project in Scranton to present NEPA Green Fair, Sat. April 27th, 2019 in Nay Aug Park in Scranton. This will be a day-long celebration of all things sustainable, with delicious, healthy food, prizes, music, educational programs and classes. It is also a 5k Run/Walk, so please mark your calendar and join us for the largest Green Fair event in our region!
SEEDS ANNUAL EVENTS
In addition to the more iniatives in planning, SEEDS will offer our annual spring Do-It-Yourself Solar Workshop, and Annual FREE Book Swap in November. We will also be looking for nominees for the Annual GREEN BUSINESS Award SEEDS presents at The Chamber for the Northern Poconos annual awards dinner each October.
FREE Book Swap Volunteers
RECENT HIGHLIGHTS
Launched com as part of the Wayne Tomorrow initiative
Presented the 3rd annual Scholarship to Mason Marie Clark in memory of Jake Burkhardt
Installed a Solar System at Lacawac Sanctuary, as part of our annual DIY Solar Workshop
Installed solar chargers on National Park Kiosks to improve emergency communications for Rangers and visitors.
SEEDS collaborated with The Chamber of the Northern Poconos, Wayne Highlands School District, Wayne County Recycling Center, Sustainable Energy Fund, PPL and the Northeastern PA Audubon Society on many educational forums this year alone.
SEEDS has also worked with the Sustainable Energy Fund to provide energy audits for many non-profit facilities in our area. With funding from the John and Helen Villaume Foundation, PPL, Clif Bar Family Foundation and Overlook Foundation, SEEDS has helped make efficiency upgrades for those non-profits.
SOME PROUD MOMENTS
SEEDS, along with Wayne County Habitat for Humanity volunteers, helped install the first solar system on a Habitat home in the state of PA! It was a solar thermal (hot water heating) system, installed in 2014 with the help of SEEDS Adviser and solar installer Blair Buselli. In 2016, we installed another system with Pike County Habitat for Humanity.
In 2016, SEEDS received a Governor's Award for Environmental Excellence. Our Wayne County Commissioners acknowledged our award and endorsed our efforts.
SEEDS will continue our work promoting sustainability for years to come, and we invite you to help make that possible.
Kindly Consider a Donation:
You can mail a check payable to:
SEEDS
1030 Main Street; – 2nd floor of The Cooperage
Honesdale, PA 18431
or visit www.SeedsGroup.net  and click on DONATE TODAY. A contribution can be made via MasterCard, Visa, Amex, Discover or PayPal. You may even select a monthly sustaining amount!
Consider Lending a Hand
Give us a call or send us an email if you'd like to learn more. Our volunteers plan our events, help bake goods, support the Annual FREE Book Swap, and so much more. What would you like to do?
Call Jocelyn at (570) 245 – 1256 or email jocelyn@SeedsGroup.net. Join an incredible group of people and become part of the solution!
Thank you, and have a very safe and joyous holiday season,
From all of us at SEEDS
Board Members: Jack Barnett, Jane Bollinger, Denise Bussiere, Colleen Campion, Sue Currier, Nancy DeYoung, Katharine Dodge, David Ford, Ella Hoerning, Jenna Wayne Mauder
Advisors: Savannah Brunette, Blair Buselli, Mary Anne Carletta, Andrew Drewchin, Chuck Heyn, Nick Hindley, Julie Hudson, Ryanne Jennings, Zachary Jennings, Dr. Carl Milks, Richard Pedranti, Jamie and Larry Reeger Michele Sands, Gordon Smith