April 17, 2017
It's coming!!!! Mark Your Calendars!
Where can you eat local food, sample free local beer, and commission your very own landscape painting while supporting the environment? Why at the SEEDS annual fundraiser and SWAPAPALOOZA of course!
SEEDS annual fundraiser on Thursday night May 4th, will not only include our 3rd annual SWAPAPALOOZA (one item only please!) we will also feature a LIVE AUCTION hosted by SEEDS own advisor, Bob Mermell. Some of the incredible items being donated will go a long way to help SEEDS raise their rent, and will surely make some nature lovers very happy too!
Please take just a moment to RSVP to help us plan food!
Click HERE to see a presentation of the AUCTION ITEMS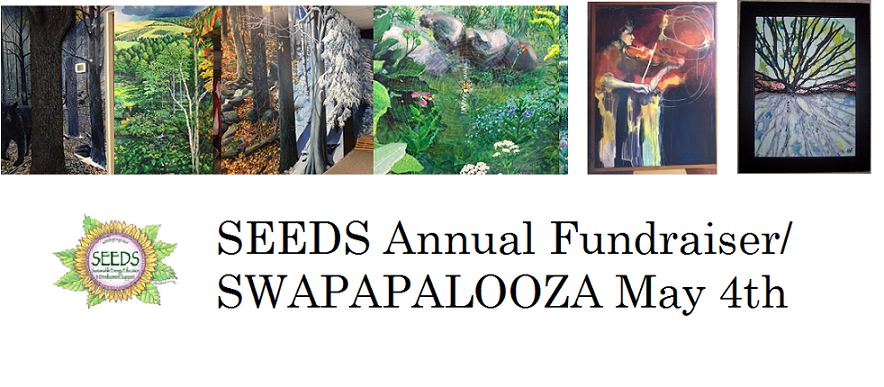 Your Own Commissioned Nature Mural – local artist, Kathy Dodge, a graduate of the prestigious Rhode Island School of Art and Design, who recently completed a 3D mural for the Wayne Conservation Office, (see first image above) will paint a beautiful nature scene (approx. 6' by 3') on an interior door in your home. What an incredible gift to the nature lover in your family (and you can take it with you if you ever move). Minimum bid is $800.
Fall Foliage Tour of Wayne County –departing from Cherry Ridge Airport in a Cessna 210. Local history buff and pilot will donate a 1 hour guided tour of Wayne County from above, like you have never seen it before! You and up to 3 additional guests are invited to enjoy this special aerial tour, all while supporting SEEDS. Count the solar systems you see! Minimum bid is $200.
Weekend Stay in Dyberry Cabin – Local hosts will treat you to a weekend in their rustic cabin, near Tanner's falls for beautiful hiking and birding. Minimum bid $125
Overnight at Ledges Hotel – Spend a night along waterfalls in the beautiful Ledges Hotel in Hawley (Sun – Thurs) and stay in their best available suite. This is a real treat for a romantic night away, or great gift for someone you love. Minimum bid $100.
Lake Region Fitness Membership – Want to take in more of the great outdoors? Then bid on a 3 month membership to Lake Region Fitness, in the Hawley Silk Mill, and get in gear for hiking, biking and more! This is a beautiful facility with state of the art equipment. Valued at close to $200, minimum bid is $50.
One Week Camping Site – camp in beautiful Abramsville near Equinunk, for a week. Facility has a covered pavilion, small pond and 2 seater out-house. Tune out the electronics and tune in to nature. Minimum bid is $150.
Original Artwork by Local Artists
–Local artist Maggie Sampson painted a stunning, large portrait of a violinist. The piece is framed and measures 37 ½ x 49 ½ inches. Ms. Sampson is also a graduate of the prestigious Rhode Island School of Art and Design. Minimum bid is $300.
-Another local artist, Hanna Gorman, who typically stretches her artistic style, has created something beautiful from plastic grocery bags. This bid on this 10" x 13" inch piece will start at $100.
2 night Stay at Lacawac Sanctuary's Ice House! This beautiful turn of the centure building, has just been renovated. It has 2 bedrooms and a futon – can sleep up to 5 people. Enjoy an exclusive stay in this historic building on the Lacawac Sanctuary grounds. So much to do and see and enjoy on all the trails and at their Visitor's Center. Minimum bid $150.
Local Farm-to-Table Dinner for Four– enjoy a customized 4 course, sustainably grown dinner, for up to 4 people at your host's home in Hawley (between Aug and Oct). Hosts are glad to provide vegetarian, vegan and/or gluten-free and to accommodate allergies. Also enjoy a tour of your hosts' garden, bee hives, solar and geothermal systems. You won't go home hungry! Minimum bid $100.
Other items include gift certificates and baskets from many local businesses, and services like a Guided Bird Walk, Leaf Blowing Services, and Spring Cleaning. Get your Mother's Day shopping done and enjoy delicious food from the Market Café. Ant Hill Farm Chef, Monique, has generously offered to donate a portion of her proceeds that to SEEDS.  The Café will open at 5:30. Festivities begin at 6:00 pm. Cash, checks and credit card purchases are all accepted for auction items.
But don't forget the SWAPAPALOOZA is FREE! Bring 1 item you no longer love, and "SWAP" it for another item for FREE. This fun, fast paced recycling activity has been a unique feature of our event every year.
Please take just a moment to RSVP to help us plan food!
Irving Cliff Brewery is donating a special brew for the event. So come enjoy good company, and perhaps take home an incredible gift that will support our organization. For any questions, or to donate an item, contact jocelyn@seedsgroup.net or call (570) 245 – 1256.
Help us get the best results and share this notice with nature lovers who might be interested in some of our auction items. We thank you!