October 16, 2021
Today's Main Ingredient is Celeriac!
Host Mikki Uzupes discovers celeriac, aka celery root, from local farmers Andy Curtis and Lily Allgood at Journey's End Farm in Sterling PA, and chef Marcia Dunsmore from the Myrtle Avenue Bakehouse in Hawley PA. Plus nutritionist Carol Kneier shares some of the health benefits of eating low-carb celeriac.

About Celeriac
Celeriac, also called celery root or knob celery, is a large, knobby root, a member of the celery family. Celeriac grows best in cool weather, especially when nights are cool and is available mainly in late fall and winter. Only its large root is eaten and is often sold without its stems and leaves, which look like an underdeveloped head of celery.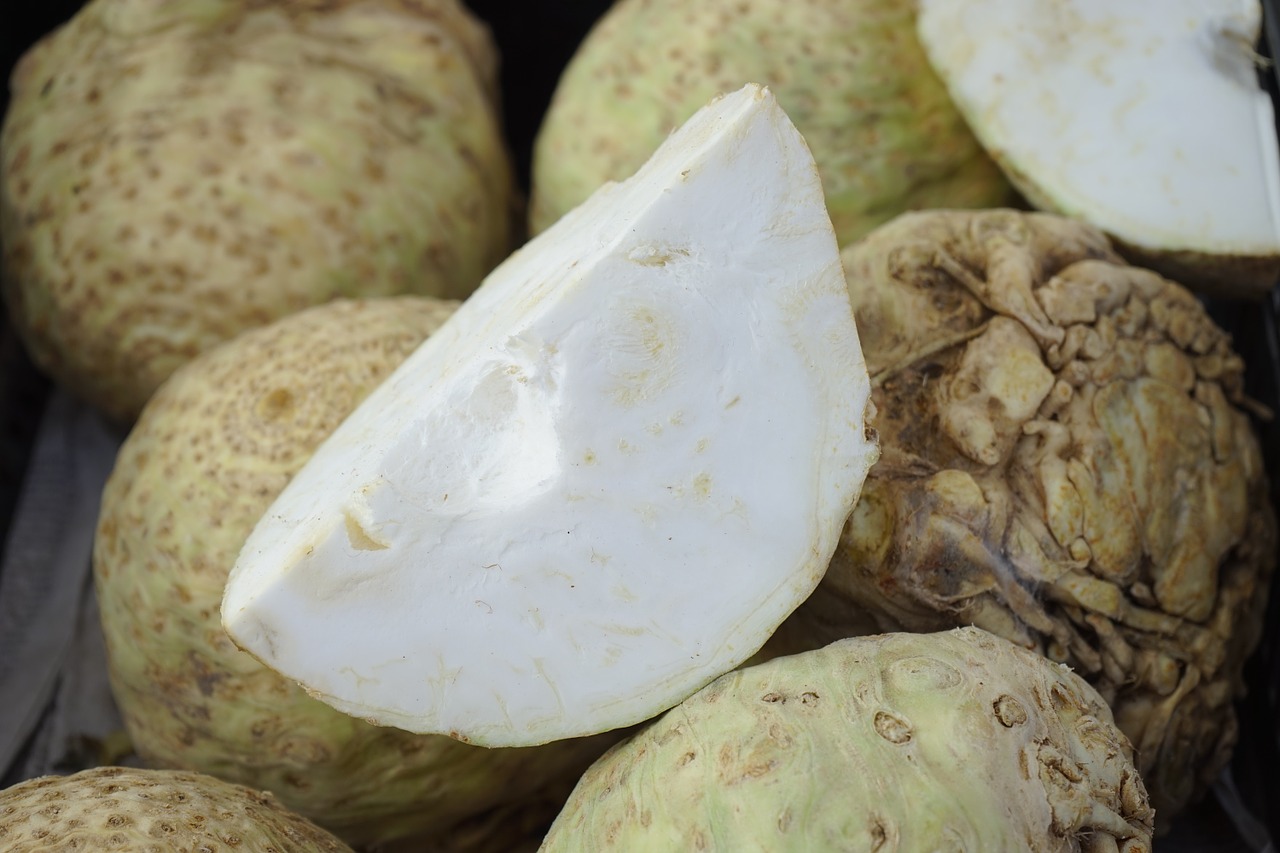 Growing Celeriac
Planting
The member of the celery family is a biennial that's planted as an annual.
• Celeriac has a long growing season and is slow to germinate. Depending on the variety you plant, it can require up to 120 days to reach harvest. Because of this, it is best started indoors as early as 10 weeks before the average last frost date in spring to be transplanted later in the garden.
• In selecting a site, choose full sun, although this vegetable will tolerate limited, light shade. Celeriac can be grown in a container, but not well; select an 8- to 10-inch pot for each plant.
• Plant in moisture-retentive but in soil that drains freely and is rich in organic matter.
• Work aged compost to planting beds before transplanting and again at midseason.
• Transplant outdoors on the average date of the last spring frost. However, a late-summer crop can be sown directly in the garden if there is enough time for a second harvest.
• If planting directly outdoors, sow celeriac seed 1/8-inch deep and place a seed cloth or burlap over the seeding area to keep the soil moist until plants sprout. When plants are 3 to 4 inches tall thin them to between 6 to 8 inches apart, or if transplanting into the garden follow the same spacing distance. Space rows 24 to 30 inches apart.
• Celeriac is often set into the garden in 3- to 4-inch-deep trenches, similar to celery. As the plants grow, soil can be mounded around the exposed side roots to protect them.
• Do not plant celeriac with pumpkins, cucumbers, or squash.
Care
This plant is shallow-rooted and requires regular watering. Keep the top few inches of soil moist at all times. Lack of soil moisture will cause celeriac to stop growing.
Celeriac is a heavy feeder; give plants a side dressing of compost tea every 2 to 3 weeks during the growing season. (For more about compost tea, see How to Make Compost Tea | Old Farmer's Almanac.)
Keep planting beds weed-free to avoid competition for water and nutrients but cultivate carefully to avoid celeriac's shallow roots. As the root develops, snip off the side roots and mound soil over the exposed bulbous root to protect them.
Harvesting
Harvest celeriac when the root is 3 to 4 inches across or slightly larger. Cut stems close to the knobby root and then use a garden fork to lift the roots. Celeriac's flavor will increase following a light frost but should be harvested before the first hard freeze.
In the Kitchen
Celery root has a mellow, sweet and nutty celery flavor and a crisp apple-like texture. It can either be eaten raw or cooked in the same manner as potatoes.
When freshly harvested, the bulbous roots are firm, moist and crisp with good heft for their size. In the grocery stores, if their weight feels light in your hand, the center will be spongy, although you can cut away the spongy part in the center; if they have their greens, which resemble celery ribs, they'll be fresher.
Especially well-regarded in France, matchstick-sized pieces are needed for céleri rémoulade, a raw celery root salad marinated in a thick, mustardy mayonnaise.
Cooked, celery root is often pureed with potatoes, or made into a potato-thickened, cream-enriched celery root soup.
Storage
Left whole, celeriac will keep in the refrigerator up to one week, or stored in a cold, moist root cellar for 2 to 3 months. It can be stored in the ground where the soil does not freeze. However, it should be harvested before a hard freeze.
How to Peel
Celeriac's ugly exterior (it has a dirty-brown, hard, hairy and stringy skin) is misleading. Peeling is necessary and requires a sharp knife and some determination. The reward is an aromatic and flavorful white flesh that is sweet and peppery.
Step 1: Trim off top leaves, if there are any. Scrub the root well, and then place the celeriac on a clean work surface. Use a sharp knife to remove the base and top so it sits flat.
Step 2: Use a chef's knife or a sharp paring knife to cut off the skin and gnarled parts, being careful not to remove too much flesh. Note: Be prepared to lose about a quarter or more of the root's weight in trimmings. A peeled 1-pound root will yield only about 2 cups chopped, enough for two to four modest servings.
Step 3: Chop or slice as desired. Remove any pithy parts. Some cooks place the pieces in a bowl of cold water with some lemon juice or vinegar to help prevent discoloration.
Or, watch:

Yield: One large celery root peeled, trimmed and cut into 1/2-inch dice = 2 1/2 cups raw = 1 1/2 cups cooked = 1 cup puréed.
Raw
Raw celery root is cut in fine julienne for salads, often mixed with mustard-flavored dressings.
Cooked
Celery root can be boiled, steamed, braised, and roasted. It imparts good flavor simmered in soups and braised in stews. It purees well, pairs well with potatoes, and is especially good in gratins.
Though not eaten, its leaves can be used as an herb to add favor to homemade broth.
Celery-Root Salad with Creamy Mustard-Lemon Dressing
– Makes 2 cups salad with 1/2 cup dressing
INGREDIENTS:
1 1/4 pounds celery root
1 lemon
1/2 teaspoon salt
1 Tablespoon Dijon mustard
3 Tablespoons sour cream
2 Tablespoons mayonnaise
1/4 teaspoon freshly ground pepper
Fresh tarragon or parsley, chopped
Step 1 – Slice off the top and bottom of the celery root, and then, using a paring knife or other sharp knife, remove the skin and any gnarled or dirty parts. Rinse. Cut in half and remove any spongy flesh in the center. Cut the lemon in half and rub the celery root pieces to prevent browning.
Step 2 – Coarsely shred or julienne the flesh either in a food processor or on a box grater, or alternatively cut the flesh by hand into matchstick-size pieces.
Step 3 – Make a dressing: Combine the sour cream, mustard and mayonnaise. Add lemon juice to taste. Season with salt & pepper and stir in the tarragon or parsley. Coat the celeriac and marinate for 2 hours before serving.
Potato and Celery-Root Mash
– serves 2 to 4 as a side dish
INGREDIENTS:
1/2 pound boiling potatoes, peeled
1 celery root, about 1 pound, peeled
Salt & pepper
About 1/2 cup milk, or cooking water, warmed
4 to 8 Tablespoons butter
Step 1 – Cut the vegetables separately into large pieces. Put each in a separate saucepan, add cold water to cover and 1/2 teaspoon salt; then bring to a boil. Simmer until tender, about 15 minutes for the potatoes, 10 minutes for the celeriac. Drain, reserving the liquid for thinning or to use in making a soup.
Step 2 – Pass them together through a food mill or mash by hand, adding warm liquid to thin the puree as needed. Season with salt & pepper and stir in butter. Stir in finely chopped parsley before serving.
Variations:
1. Omit milk or water and substitute chicken stock, then include one or more other cooked vegetables in the mix, such as turnips, parsnips, or fennel.
2. Substitute apples for potatoes and omit the milk, substituting apple juice or cider. Purée the cooked celeriac with 3/4 pound of peeled, cored, and quartered apples that have been sauteed in butter. If the puree is too thick, thin with heavy cream or more apple juice or cider.
Gratin of Celery-Root
– serves 4 to 6 as a side dish
INGREDIENTS:
1 1/2 cups chicken stock (or vegetable stock)
3/4 teaspoon kosher salt
2 one-pound celery roots, peeled and trimmed, quartered lengthwise, each wedge cut in 1/4-inch thick slices (about 4 cups)
3/4 cup heavy cream, or 1/2 cup half & half
Ground black pepper to taste
2 Tablespoons melted butter
1/4 cup prepared bread crumbs or Panko
1/4 cup finely-grated Swiss-style cheese such as Gruyere or Emmenthaler
3 Tablespoons finely-grated Parmesan cheese
Preheat oven to 400°F
Step 1 – Bring chicken stock to a boil. Add half the celery root and boil until tender but still slightly firm, about 6 minutes. Remove with slotted spoon and repeat with the remaining celery root. Spread cooked celery root evenly in a baking dish.
Step 2 – Pour the cream or half & half into the chicken stock. Boil until reduced to 3/4 cup. Taste and add black pepper and additional salt to taste. Pour the cream mixture over the celery root.
Step 3 – Toss breadcrumbs with melted butter, bread crumbs and the 2 cheeses. Sprinkle over the celery root.
Step 4 – Bake at 400°F until golden brown and bubbling, about 25 minutes. If the breadcrumbs are getting too brown, place a sheet of aluminum foil loosely over them. Allow to cool slightly before serving.
All Podcasts