August 28, 2021
Today's Main Ingredient is eggplant!
Our host Mikki Uzupes talks beautiful eggplant with young farmers Lily Allgood and Andy Curtis from Journey's End Farm in Sterling PA, and Caleb Johnson, co-owner and chef at Native Food and Drink on Main Street in Honesdale. If you hate eggplant, give it another try with fresh locally grown!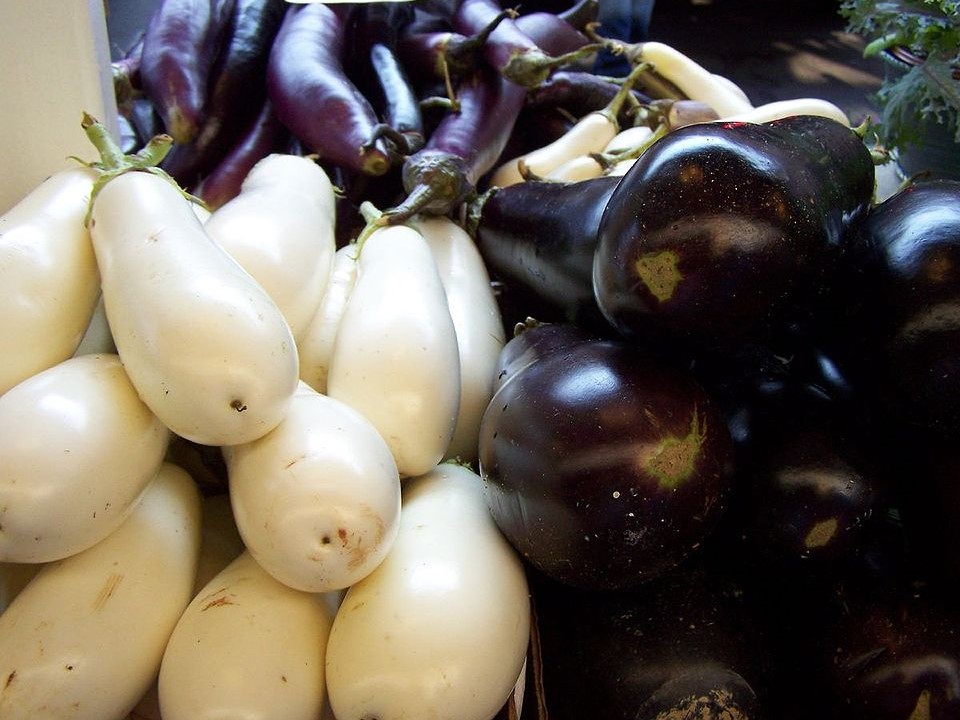 About Eggplant
Eggplants originated in South Asia and still grow wild in India and in tropical and subtropical climates. Even today our domesticated eggplant varieties, prefer hot weather. They grow fastest when temperatures are between 70° and 84°F and very slowly in cooler weather.
Varieties of Eggplant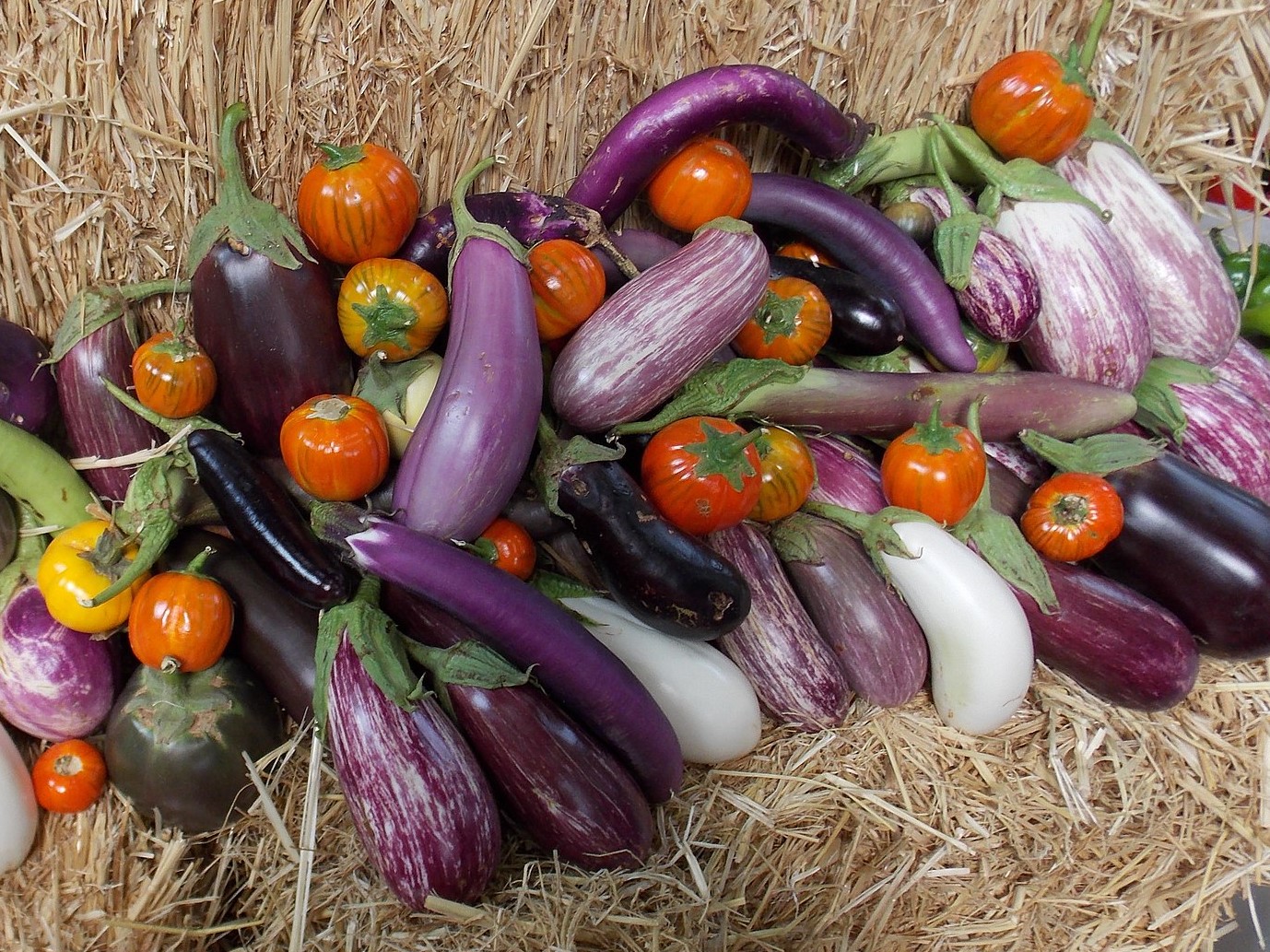 • Globe, also called American Eggplant, is the largest type of eggplant. Purple, with almost black skin, they are large and meaty, superb for slicing and grilling.
• Italian Eggplants are a bit smaller than their globe cousins and slightly milder. A good choice for stuffing, roasting, broiling and grilling, they are excellent for Eggplant Parmesan and eggplant relish (Caponata).
• Graffiti Eggplants are oval to oblong; smaller than globes. Their skin is streaked with violet and ivory stripes. They have smaller seeds, thinner skin, and are less bitter. They take well to sautéing and pan frying, braising and stewing, roasting and grilling.
• Rosa Bianca Eggplants are roundish. Its skin is streaked with lavender and ivory colors. They have a delicate flavor and fewer seeds and thus are less bitter than purple varieties.
• Japanese or Chinese Eggplants are among the sweetest of eggplant varieties with longer, thinner fruits. Outstanding for stir-frying and sautéing.
• Indian Eggplants are egg-shaped and smaller than their purple counterparts. This type can be harvested earlier than the American, Mediterranean, and Near East/Far East varieties. Slice, fry, stew, mash, or stuff them.
• White Eggplant has a more delicate flavor. Good for eggplant dips or spreads.
Growing Eggplant
Planting
Start seeds indoors in flats 8 to 9 weeks prior to the last spring frost date, or purchase 6-to 8-week-old nursery transplants after the last threat of frost; do not purchase tall, spindly plants or those that have blossoms, because their yield will be lower. When starting from seed, expect 100 to 120 days to maturity.
Choose a very sunny spot in loam soil or in well-drained sandy loam. Soil pH should be between 5.8 and 6.5. Warm soil with black plastic mulch before setting out transplants. If you are growing in pots, use a premium potting mix to avoid disease and plant in a dark-colored container to absorb more sunlight. In cold climates, consider using row covers, but open on warm days so bees can pollinate. Water well after planting. In high summer, eggplants love temperatures between 80° and 90°F. Nighttime temperatures below 60° and 65°F will slow growth.
Care

Eggplants grow on plants several feet tall and hang from branches. Varieties that produce large, heavy fruit can topple the plant, so support with stakes and limit each plant to 5 or 6 eggplants.
• Stake plants and stems before fruit forms.
• Pinch out terminal growing points for a bushier plant.
• Water to moisten soil to a depth of at least 6 inches, so the soil is moist but not soggy. Mulching can provide uniform moisture.
• Apply a balanced fertilizer twice during the growing season. Side dress when the first fruits are about the size of a quarter, and then side dress again after 2 or 3 weeks.
Harvesting
Harvest is 65 to 80 days after transplanting, depending on the variety. Fruits are ripe when their skin first fails to rebound to fingernail pressure. To harvest, cut the tough stem next to the fruit's green cap. Don't try to pull the fruit, is won't come off.
If you harvest early and often, the plant will be prolific. Once ready, check your eggplants every 2 or 3 days. Don't wait too long to harvest. Eggplant tastes best when harvested young. Eggplants may be bitter when overripe or underripe. If the skin looks faded and the seeds inside are dark and hard, the eggplant will taste bitter.
Japanese eggplants may be ready to harvest when the size of a hot dog.
In The Kitchen
Storage
• Store eggplant in the refrigerator, ideally in temperatures of 45° to 50°F.
• Don't wash or cut until ready to use.
• To avoid discoloring of the flesh after cutting, marinate or brush with a mixture of salt and lemon juice or vinegar.
Preparing Eggplant
Remove the stems and leaves. Cut off the green, spiky top and peel the eggplant. You can omit peeling if the eggplant has been freshly picked and is still young, and when roasting or grilling.
It is best to use your eggplant within a day or two; this is because eggplants in storage soon begin to lose their mild flavor and start to turn bitter. Bitterness can also be an issue for older, overmature eggplants. That said, most eggplants today are bred to be less bitter, and young eggplants with their white or pale green flesh and little seed development rarely show any trace of the bitterness that often puts people off. However, if you think your eggplant may be bitter, consider taking steps to moderate any bitterness, including any of the three methods described here:
Salting it is the most tried-and-true method for getting rid of bitterness. Sprinkling a good amount of salt over eggplant slices or cubes before they're cooked draws out some of its moisture and lessens the bitterness. Note: Asian eggplants rarely need salting.
o Cut lengthwise into slices about 3/8 inch thick or cut into 1-inch cubes.
o Stand slices upright against the inside of a colander and sprinkle with salt. (Kosher salt preferred.) Stand another layer of slices against it and sprinkle with salt. Repeat until you have salted all the eggplant you are working with. In the same fashion if using cubes, salt them in layers.
o Place a deep dish under the colander to collect the liquid that accumulates and let the eggplant stand for at least 30 minutes.
o Rinse the salt off and press the eggplant dry. For most applications, you want to dry the eggplant off as much as possible. Place the eggplant between two paper towels, and press it down on a hard surface with your hand, which will remove much of the water. Also see How to Salt Eggplant: 9 Steps (with Pictures) | wikiHow
Soaking in milk is another common practice that many swear by, but is lesser-known. Soak eggplant slices or cubes in milk for about 30 minutes before cooking. The milk not only tempers the bitterness, but it actually makes cooked dishes extra creamy, since the vegetable acts like a sponge and soaks up a good amount of milk in its flesh.
Scooping out and discarding the seeds can also work, as these tend to hold most of the bitterness, and older eggplants can have a whole lot of seeds. Cut away the inner core of seeds, and this should mitigate the bitterness.
Frying Eggplant

Because eggplant flesh acts like a sponge, it tends to soak up a lot of oil and can get soggy. Here are some tips for how to use less oil when frying eggplant. Choose one or more of these methods and experiment to see what works best:
• Heat the oil until very hot (but not smoking). Dredge eggplant slices or cubes in flour before frying; alternatively whisk 2 egg whites for 60 seconds and then brush the slices or cubes with a THIN layer of egg white; turn and brush the other side. (Be careful, the egg whites will spatter when you put them in hot oil.)
• Consider using a non-stick pan and only a tablespoon or two of oil. Fry in a single layer and do not crowd the pan. Turn the slices or cubes often.
• Consider roasting or grilling instead of frying, by first brushing each slice or cube with a THIN coat of oil.
When the eggplant is dark golden brown, remove to a plate lined with two layers of paper towels.
Eggplant, Zucchini and Tomato Gratin
– serves 4
INGREDIENTS:
1 large eggplant, globe is best
4 to 5 medium zucchini, trimmed
4 to 6 medium tomatoes, thinly sliced
1/2 pound mozzarella, shredded
1/4 cup olive oil
1/4 cup fresh basil leaves, cut into thin ribbons
1/4 cup tomato sauce
Salt and pepper
Preheat oven to 450°F
Step 1 – Trim and peel the eggplant and slice lengthwise into 1/4-inch-thick slices. Layer the slices in a colander placed over a bowl and lightly salt each layer. Let the slices drain for at least 30 minutes.
Step 2 – Brush 2 large baking sheets with olive oil. Rinse the salt off the eggplant slices and pat them dry. Put the eggplant slices and zucchini, cut into 1/4-inch lengthwise slices (not peeled), on the baking sheets and brush with 3 Tablespoons oil. Bake until almost cooked through but not browned, about 10 minutes. Set aside until cool enough to handle. Reduce oven temperature to 350°F.
Step 3 – To assemble the gratin: Spread the tomato sauce on the bottom of a 9-inch-square baking dish. Arrange half the eggplant slices on the sauce, then make a layer of half the zucchini slices, placing them at right angles to the eggplant slices. Layer half of the tomatoes over the zucchini. Lightly season with salt & pepper and sprinkle with half the basil. Top with half the cheese. Repeat the layers in the same order with the remaining ingredients.
Step 4 – Bake until the cheese melts but doesn't brown, about 15 minutes. Let cool 5 minutes and then cut into squares to serve.
Note: If the tomatoes are not very flavorful, increase the sauce to 1/2 to 3/4 cup and add the extra between layers.
Sicilian Eggplant Salad (Caponata)
This sweet and sour dish is deliciously addictive. Serve it hot, cold, or at room temperature. Serve as an appetizer with bread or crostini. Toss it with pasta. Enjoy it in a sandwich or as a topping for burgers. Spoon over grilled chicken.
INGREDIENTS:
1 medium eggplant
salt
1 cup large green olives, whole
1 to 2 Tablespoons pickled capers (or if using salt-preserved capers, soak them in water overnight then drain)
2 ribs celery, parboiled and cut into chunks
1 sweet onion cut into chunks
1 red & 1 green bell pepper, cut into chunks
1/4 cup extra-virgin olive oil
2 Tablespoons red wine vinegar
2 teaspoons sugar
1/2 teaspoon cinnamon
pinch of nutmeg
1/2 to 3/4 cup of prepared spaghetti sauce
Step 1 – Trim and peel the eggplant and cut into chunks. Layer chunks in a colander placed over a bowl, lightly salting each layer. Let the slices drain for 30 minutes. Rinse off the salt and pat the eggplant dry.
Step 2 – Toss all of the vegetables with olive oil and put in a large flat pan in a 375°F oven. Bake until the eggplant and the onions start to become translucent. Do not overcook.
Step 3 – Mix vinegar, sugar, cinnamon & nutmeg. Add to vegetables and stir well to blend. Pour spaghetti sauce over all and continue baking until the mixture bubbles.
Step 4 – Serve warm, cool to room temperature, or refrigerate.
More Eggplant Recipes:
• Baba Ghanoush (Baba Ganouj) is an eggplant dip or spread traditionally served as an appetizer with pita. It's made from eggplant, sesame seed paste (tahini), olive oil, lemon, and garlic. It is typical of eastern Mediterranean cuisine. Classic Baba Ghanoush Recipe | Food Network
• Three recipes for Japanese Eggplant: grilled, broiled and stir-fried at Cook Japanese Eggplant | WikiHow
• Stir-fried Japanese Eggplant with Basil and Chilies can be made with ground chicken instead of ground pork, or as a vegetarian dish with tempeh or crumbled tofu. Cook Japanese Eggplant | Bon Appetit
All Podcasts