June 19, 2021
Today's Main Ingredient is Radish!
Host Mikki Uzupes talks spicy (and not so spicy) radishes with farmer Erica Madden of Good Find Farm in Damascus PA and Caleb Johnson, co-owner and chef at Native Food and Drink in Honesdale PA.
Read down the page for the extra segment on shopping at farmers markets!

About Radishes
Radishes are a versatile root vegetable that can be used in salads, soups, as a cooked side dish, a zesty dip, and more. They are hardy, easy to grow, and can be planted multiple times during a growing season. They grow quickly and some varieties can be harvested as soon as 3 weeks after planting.
Nearly everyone is familiar with spring-planted, small, crisp-tender red or red-ish radishes that are mostly mild, but some have a little bite to their flavor. Fall-planted varieties, like daikon or Asian radishes, are significantly larger, have a thicker skin, and a more pungent flavor. They also store very well and can last throughout the winter in cold storage.
Tender, spring radishes
Planting
• Select a site and prepare the soil by incorporating a few inches of compost as soon as the soil is workable in the spring. Radishes need 6 hours of daily sun; with too much shade (even when shaded by adjacent plants) the leaves will flourish but the radishes themselves will not.
• Plant in spring and in fall, but not when summertime temperatures become too hot, because the plants will bolt (go to seed). To avoid a fiery taste, plant your radishes so they will mature in warm, not hot weather.
• In spring, plant 4 to 6 weeks before the average date of the last frost. Sow seeds directly into the soil, and plant another round every 10 days for continuous harvest.
• Thin plants to 2 inches apart when they are a week old.
• Water consistently, keeping soil moist but not waterlogged. Mulch to retain moisture in dry conditions.
• Practice 3-year rotation, planting in the same spot every third year. This will help prevent diseases and pests from affecting your crop.
Preparing mild, spring-planted radishes
Separate and wash the leaves and the roots separately. To crisp radishes, soak in ice water for an hour.
If you dislike radishes' pungent taste, slice them directly into cold water, and rinse thoroughly; it's the slicing that releases the enzyme that creates the pungent compounds.
• Try freshly sliced radishes raw on top of good, buttered bread, and sprinkled with kosher salt. The French even eat this for breakfast!
• Thinly slice radishes and carrots; toss with a vinaigrette and sprinkle with fresh dill.
• Cook well-washed and chopped radish greens in a stir fry, or add to a soup, similar to other Asian greens.
Radish Salad – serves 6-8
INGREDIENTS:
3 to 4 Tablespoons wine vinegar or lemon juice
1 teaspoon sugar
1/2 teaspoon salt
4 cups thinly sliced spring radishes
STEP 1 – Combine vinegar or lemon juice with sugar and salt.
STEP 2 – Pour over the radishes and marinate for one hour.
STEP 3 – Drain and salt and pepper to taste. Serve!
Note: to make this dressing more like a traditional vinaigrette, add 1 1/2 Tablespoons of your favorite oil and whisk in a bowl or shake in a jar to emulsify.
Radish Dip
STEP 1 –
Roughly chop 2 cups of washed & trimmed radishes (depending on how chunky you want the dip to be)
STEP 2 – Beat together 1/2 cup of softened cream cheese and 1/2 to 3/4 cups of sour cream with 2 Tablespoons chopped chives.
STEP 3 – Then combine with chopped radishes and add salt & pepper to taste. Serve with vegetable crudites or crackers.
Cooked spring radishes have a mild spiciness.
• Steam or boil, but don't overcook them. Tossed with a little vinegar they take on a lovely pink color.
• Add late to a stir-fry for a nice crunchy element.
• Steam radishes whole for 5 to 10 minutes (depending on their size) in a steamer basket or, alternatively, in a pan with a bit of water and a tablespoon of butter. Then toss with butter and salt, or with butter and 2 Tablespoons of heavy cream. Or, serve with butter under a poached egg for a delicious breakfast!
Daikon and other late season radishes
Late-season radishes include several kinds of colorful daikon radishes: green, purple, pink, red, just plain white; a Black Spanish radish, and one that is colored like a watermelon. Largely unknown outside of Asian grocery stores, these can often be found at local farmers' markets. You will generally see these radishes starting in late summer and throughout winter. You may also find them in the first markets of a new season, as these radishes store well over an entire winter. Many varieties are more spicy, but not all.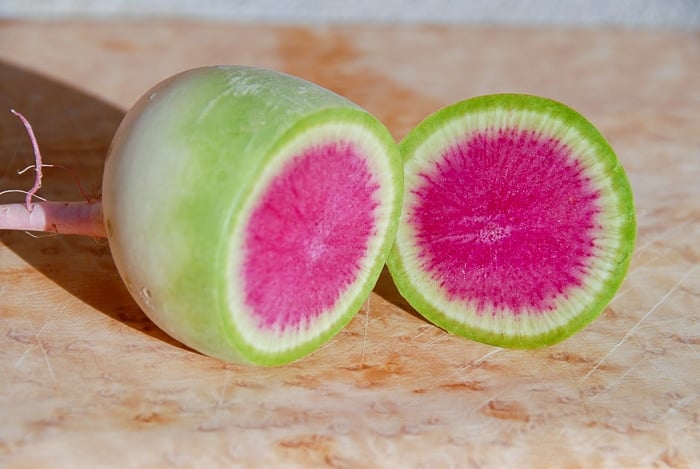 Planting
These large, late-summer-to-fall-planted radishes grow well in cold climates and may grow to 18 inches long and 3 inches wide. During long, hot summer days they are very slow to bolt (go to seed). If planted late in the season, they will withstand heavy frosts, although they need at least 40°F soil to germinate. Farmers also extend the growing season by using frost covers on the garden beds, or by planting them in cold frames or greenhouses.
• Full sun is best, some shade is OK.
• In the fall, sow seeds in well-loosened soil 4 to 8 weeks before your region's average first frost. This will ensure plants mature in 40 to 70 days (check your seed packet!) in time for harvest.
• Plant the seeds 1/2 to 3/4 inches deep in moist, deeply-dug garden soil. Avoid planting with garlic, potatoes, tomatoes, or corn. Deep containers with wide tops also work well.
• As soon as the seedlings have a second set of leaves, thin seedlings to 4 to 6 inches apart.
Dealing with pests If you have insect problems, contact your local cooperative extension office.
Radishes are a brassica, and like other members of the brassica family, can attract flea beetles and cabbage root maggots. Use a semi-transparent physical barrier, like row cover, all around the plant to keep flea beetles off (same for other brassica species too). To keep cabbage flies from landing on or near your plants, cover them with mosquito netting. If you see flies in the air, look for eggs in the soil and destroy any eggs you find. Carefully dig up your plants and swish the roots in cold water to remove any maggots, then replant. Daikon radishes are also vulnerable to flea beetles and harlequin bugs.
Preparing spicy, fall-planted radishes
In Japan Daikon radish is often grated and eaten as a condiment like horseradish. However, other preparations of raw daikon radish may be too pungent or bitter for some people. Taste and experiment!
The secret to achieving a mild flavor is salt.
• Cut off the ends of the radish.
• Peel the center section like a carrot, with a vegetable peeler.
• Slice into pennies and layer the pennies onto a ceramic plate or container.
• Salt each layer generously.
• Let sit for at least half an hour.
• After an hour or more, the taste will be very mild yet unique. The pennies will be soft and watery. Rinse in cold water if too salty.
Salad with Daikon – serves 4 or more
FOR THE SALAD:
1 cup julienned daikon (slice root on an angle, then cut into julienne)
8 cups spring mix, baby spinach, or your favorite salad greens
4 to 5 green onions, including tender green stems, sliced into 1/2-inch pieces
1 cup freshly sliced apple or pear, or canned mandarin oranges
1/3 cup toasted almond slivers
STEP 1 – Place the cut daikon in a strainer and sprinkle lightly with salt, allowing the moisture to drain, until ready to use.
STEP 2 – Place greens on a large platter. Top with green onions, sliced fruit, daikon, and almonds.
STEP 3 – Prepare the dressing and pour over the salad, toss and serve!
FOR THE DRESSING:
2 Tablespoons vegetable oil
3 Tablespoons honey
2 Tablespoons rice wine vinegar
1 Tablespoon orange juice
1/2 teaspoon soy sauce
1/4 teaspoon freshly grated ginger or to taste
sprinkle of salt
Preparation: Mix together (emulsify) with a wire whisk.
Daikon and other late radishes (e.g. Black Spanish) are also good baked, roasted, boiled, or steamed; use them any way you would use a carrot. Try them in stews and soups.
Pre-boiling eliminates daikon radishes' bitterness and strong smell: peel, cut into rounds or chunks (one-inch-thick pieces). In a pot large enough to hold them, add enough water to cover all the pieces. Bring to a boil, then cover and turn the heat to low. Cook for 10 to 15 minutes to soften. This will also bring out the daikon's sweetness.
Roasting: Pre-boil daikon pieces (see above), then toss with some vegetable oil, salt & pepper, and roast at 425°F to desired doneness, stirring every 10 minutes.
Stir-frying: Pre-boil daikon pieces (see above) before stir-frying. Drain and lightly rinse, and then stir-fry with other vegetables.
Boiled: Boil in water with a handful of rice or in broth; then test for doneness with a skewer, and if still too firm continue cooking to desired doneness. If preparing ahead of time, leave daikon pieces in the broth to cool down.
Two final notes:

These are not radishes, but Japanese salad (or hakurei) turnips. Also sweet and tender. Very mild.
Here's Mikki's extra discussion with Caleb and Erica about our local summer food bounty and shopping at farmers markets. Get to know the farmers that feed you! They love talking with you too. Enjoy!

All Podcasts