June 5, 2021
Today's Main Ingredient is Rhubarb!
Host Mikki Uzupes talks tart rhubarb with farmer Tammy Preble of Wolfe Springs Farm in Honesdale PA and Kate Woerhle, executive chef at Settler's Inn in Hawley PA. Registered Dietitian Carol Kneier adds more about rhubarb as part of a balanced diet.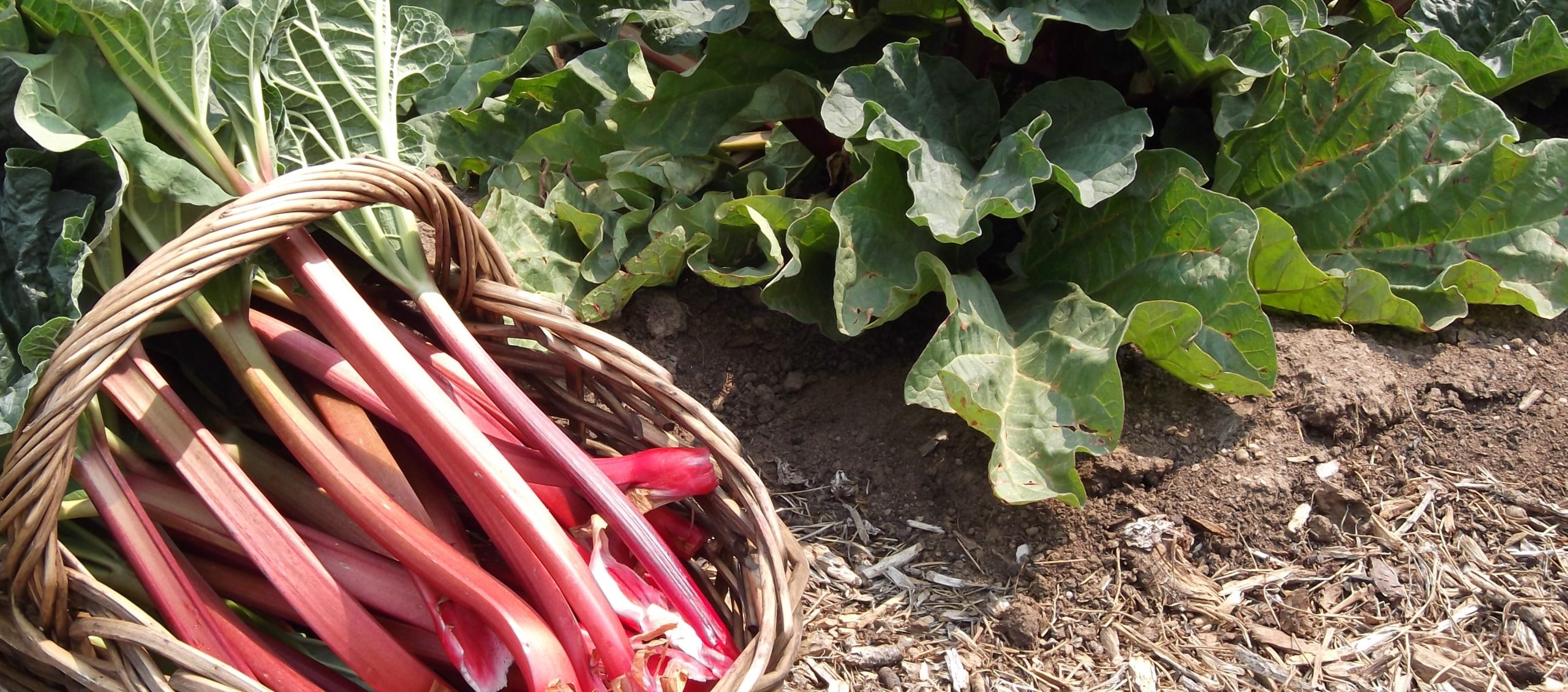 About Rhubarb
Rhubarb has a history of medicinal and cosmetic use that spans more than 3,000 years. It first appeared in North America in the late 1700s, when it was known as "pie plant." Rhubarb is a hardy perennial vegetable (not a fruit!) that, once established, may produce a harvest for 20+ years with little effort.
Planting Rhubarb
Rhubarb is easy to grow in our region, but needs a dormancy period (in winter) to really thrive and produce an abundance of huge stalks.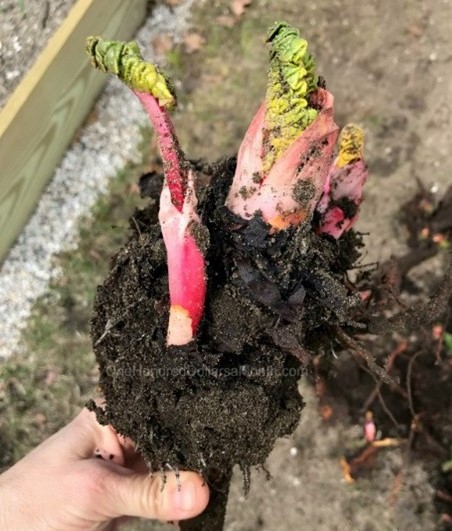 Rhubarb grows best in full sun, but will tolerate partial shade. It grows in most soils, but good drainage is essential, because it will rot if kept too wet. Rhubarb crowns are established plants that are at least one year old. The crowns grow underground like roots, though they don't look like ordinary roots of other plants.
• Mix compost into the soil before planting. Rhubarb plants are heavy feeders and need this organic matter.
• Rhubarb can be grown from seed, but this is not recommended. Instead plant one-year-old crowns, or divisions cut from an established rhubarb plot, and then avoid harvesting the first year or two until the plant gets established. By the third year, you can take what you need.
• Plant crowns in early spring or in the fall after dormancy has set it.
• Rhubarb can grow to 2 to 3 feet tall and wide, so dig large, bushel-basket-size holes, and space the plants about 4 feet apart. Plant the crowns 1 to 3 inches below the surface of the soil, with buds facing up.
• Mulch generously with a heavy layer of straw to retain moisture and discourage weeds.
Tending an Established Plot
• Each spring, when the ground is thawing or has just thawed, apply a light sprinkling of an organic fertilizer (or make your own rhubarb manure, as shown here).
• Water well and consistently. Rhubarb needs sufficient moisture, especially during the hot, dry days of summer.
• Remove seed stalks as soon as they appear as they drain energy from the plant that could otherwise be used for producing stalks or roots.
• Overcrowding is a common problem with rhubarb and can lead to inferior growth. Dig and split rhubarb roots (crowns) every 3 to 4 years. Divide when plants are dormant in early spring (or late fall). Divisions should have at least one large bud on them.
• Fertilize plants again in mid- to late-summer to promote the green growth of leaves. This will improve the quality for the stalks that grow the following year.
• In the fall, remove all plant debris. Once the ground freezes, it's best to cover rhubarb with 2 to 4 inches of an organic mulch, preferably well-rotted compost. By adding nitrogen to the soil, you're preparing the rhubarb plants for a good spring season.
Harvesting
• Do not harvest any stalks during their first growing season, and harvest sparingly in the second year. This allows your plants to become properly established.
• Usually after a plant's third year, the harvest period runs 8 to 10 weeks long, lasting through mid-summer.
• Harvest stalks when they are 12 to 18 inches long. If the stalks become thin, stop harvesting; this means the plant's food reserves are low.
• Grab the base of the stalk and pull it away from the plant with a gentle twist. If this doesn't work, you can cut the stalk at the base with a sharp knife. To prevent the spread of disease, be sure to sanitize the knife before cutting. Discard the leaves.
• Always leave 2 or more stalks per plant for them to gather energy for the next year's growth and ensure continued production.

Rhubarb's green leaves are toxic due to their high concentration of oxalic acid (although you can put them in your compost pile). Keep all rhubarb roots, i.e., crown and pieces of crown, away from children and pets.
In the Kitchen
Rhubarb stalks will last in the refrigerator for 2 to 4 weeks. To maintain humidity—refrigerators provide the cold, but they also dry the air—wrap the stalks in a damp cloth or paper towel and put them in a perforated plastic bag in the vegetable crisper drawer of the refrigerator. To freeze, cut the stalks into half-inch to one-inch pieces and freeze in a plastic bag, removing as much air as possible. There's no need to thaw it when putting into a cake or muffin batter or pie or crumble.
Stewed Rhubarb
– yields 3 cups in about 25 minutes
Stewed rhubarb is tart and has a slightly astringent taste. You may feel your mouth pucker a bit. This 3-ingredient stewed rhubarb is easy to make and is ready in minutes. Serve warm over vanilla ice cream, on pancakes or waffles, or on its own.
INGREDIENTS:
6 cups chopped fresh rhubarb, rinsed, trimmed & cut into 1/4-inch pieces
1/2 or up to 1 cup sugar (to taste)
1/4 teaspoon cinnamon (optional)
2 Tablespoons water
STEP 1 – Put the rhubarb in a medium saucepan, add the sugar and cinnamon, if using, and toss to coat.
STEP 2 – add water and simmer over low-medium heat for about 15 minutes, or until all the sugar has dissolved and the rhubarb has broken down.
STEP 3 – Let the sauce cool a bit, and then serve while still warm.
Strawberry Rhubarb Cobbler – serves 6 to 8
FOR THE FRUIT:
1 1/4 pounds rhubarb
1 pint basket strawberries (about 1 1/2 cups)
2/3 cup sugar
2 1/2 Tablespoons unbleached white flour
Zest of 1 small orange (optional)
FOR THE COBBLER TOPPING:
1 1/2 cups unbleached white flour
1/4 teaspoon salt
1 Tablespoon baking powder
2 Tablespoons sugar
4 Tablespoons (1/2 stick) unsalted butter
1 cup heavy cream
Preheat oven to 375°F
STEP 1 – Wash rhubarb well, cutting off any brown spots or leaves still on the stalks. If the stalks are especially thick, cut them in half lengthwise before slicing into 1/2-inch pieces, all approximately the same size.
STEP 2 – Wash the strawberries, pat dry, and hull them. Cut them into halves, or leave whole if small.
STEP 3 – Toss both fruits in the sugar, flour and zest. Pack into an 8-inch square baking dish, a 9-inch round cake pan, or 6 to 8 individual ovenproof dishes.
STEP 4 – Make the cobbler topping: Combine the dry ingredients and cut in the butter with a food processor, an electric mixer, a pastry blender, or 2 knives; until it resembles coarse meal. Add the cream and mix lightly, just until the dry ingredients are moistened. Cover the fruit with tablespoon-size dollops of it, using all of the topping.
STEP 5 – Bake for 35 to 40 minutes, until the topping is browned and cooked through and the fruit is bubbling. Individual cobblers will take about 25 to 30 minutes.
Rhubarb Cake
Make using your favorite yellow or coffee cake recipe you already have; just add rhubarb stalks.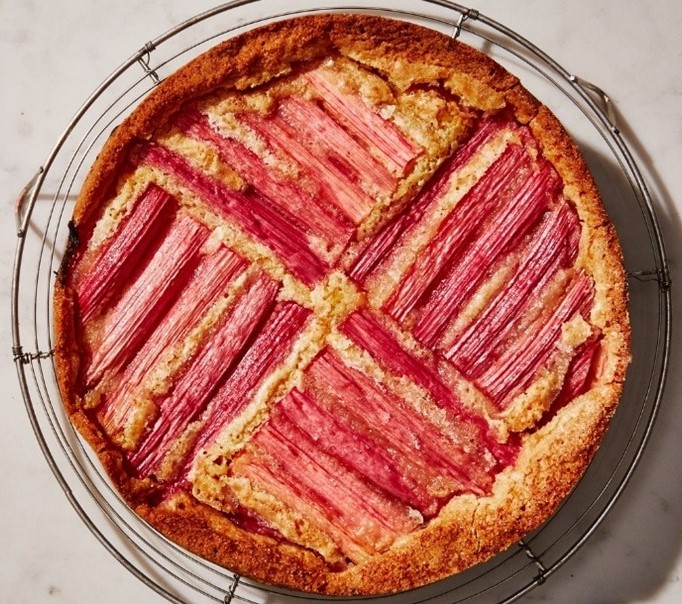 Trim rhubarb stalks as pictured, and halved lengthwise if too thick. Don't press the stalks into the batter—just place them on top, resting on the surface of the unbaked cake. Sprinkle generously with more sugar, then bake until cake is golden on top and browned around the sides. Transfer pan to a wire rack and let cake cool in pan 10 minutes. Slide a knife around sides of cake to loosen and unmold. Slide directly onto rack and let cool completely.
Rhubarb Strawberry Refrigerator Jam
– makes 2 1/2 cups
This 3-ingredient recipe is made in the microwave oven.
INGREDIENTS:
1 pound rhubarb (stalks only), cut into 1/4-inch diagonal slices
1 pint strawberries, wiped clean and hulled
1 1/2 cups sugar
STEP 1 – Combine all ingredients in a 2 1/2-quart souffle dish.
STEP 2 – Cover with microwavable plastic wrap. Cook 10 at 100% power for 10 minutes.
STEP 3 – Prick the plastic wrap to release the steam. Uncover and cook 10 minutes more.
STEP 4 – Transfer to a non-reactive bowl or jar, covered, and refrigerate to cool and gel. Enjoy!
Also check out this Rhubarb Sauce with Ginger recipe from The Spruce Eats. Serve as a jam for breakfast or over ice cream!
Rhubarb works well for savory too…
Rhubarb and Cucumber Salsa
This recipe contributed by Chef Kate from Settler's Inn
INGREDIENTS:
1 cup rhubarb, diced small
2 cups cucumber, peeled, diced small
1/4 cup chiffonade cilantro
1 jalapeno, minced (or however much you'd like)
1 lime juiced
2 Tablespoons honey
2 Tablespoons olive oil
Salt and pepper
STEP 1 – Mix the honey with the lime and olive oil till honey is completely incorporated.
STEP 2 – Toss all ingredients together and season to taste. Enjoy!
Also try:
• Martha Stewart's Rhubarb Chutney to go with meats and poultry: https://www.marthastewart.com/342484/rhubarb-chutney
• Go for this barbecue sauce with rhubarb:
https://letsdishrecipes.com/market-monday-roasted-rhubarb-barbecue-sauce
• Try this salad dressing made with sweet/tart rhubarb juice: https://www.tasteofhome.com/recipes/spinach-salad-with-rhubarb-dressing
All Podcasts