August 7, 2021
Today's Main Ingredient is Blueberries and other summer berries
Host Mikki Uzupes talks with farmer Bobby Morgan from the Paupack Blueberry Farm near Lake Wallenpaupack, and chef Donna Fitzgerald Vannan from Maximum Zen Bakery and Cafe in Clarks Summit. And nutritionist Carol Kneier discusses how a cup of sweet blueberries or other berries are a nutrition-packed and healthy treat.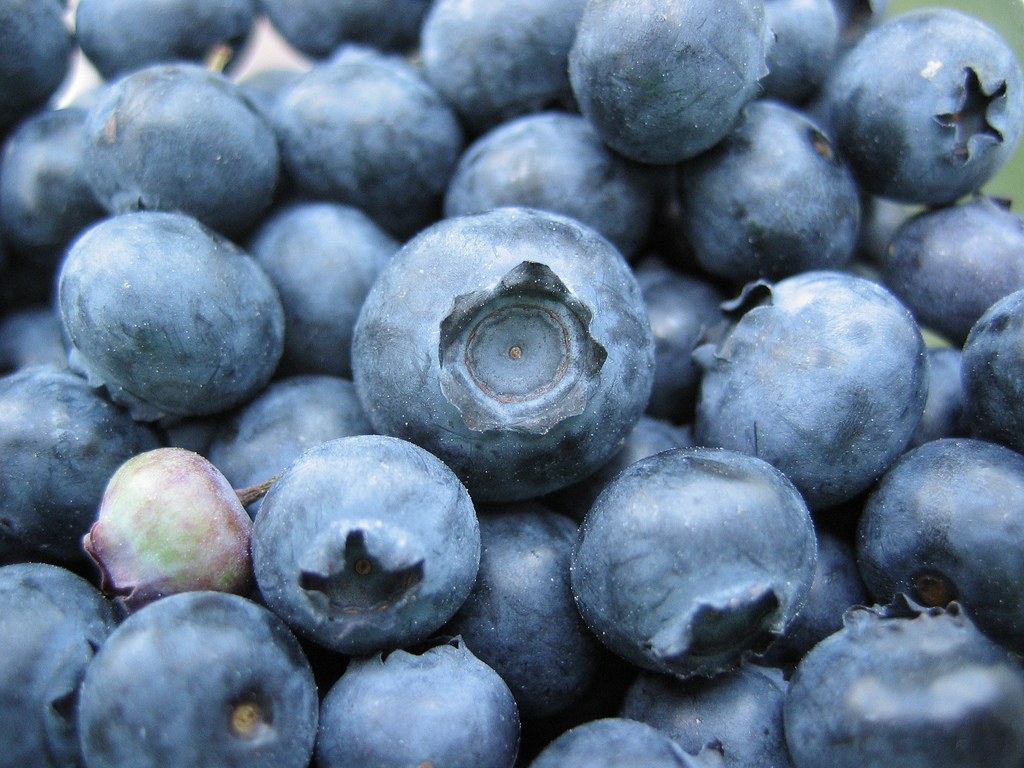 About Blueberries Bushes
Blueberries and their cranberry relative are native crops of North America. There are five major categories of blueberry grown in the United States: northern highbush, southern highbush, lowbush, rabbiteye, and hybrid half-high. Northern highbush varieties are native to the eastern and northeastern United States and are the most common types of blueberries cultivated throughout the world. In our climate in the Poconos and the Catskills, it's best to select northern highbush if you plan to grow your own blueberries.
Planting
The right time for planting blueberry bushes is early to mid-spring. Choose a site with full sun. Bees and wind help bushes to cross-pollinate, although the bushes need to be near each other to be productive. However, blueberries produce better if they are cross-pollinated; this means growing blueberry bushes of at least two different varieties to help with their production. A list of highbush cultivars includes Bluecrop, Bluegold, Blueray, Duke Elliot, Hardyblue, Jersey, Legacy, Patriot, and Rubel.
Most home gardeners will need to prepare special, high-acid soil (ideally between 4.5 and 5 pH) in order to provide proper blueberry-plant care. Test your soil to see if you need to amend it. If the soil pH is above a 5.1, incorporate elemental sulfur or aluminum sulfate. However, over time these amendments leach away, and so you may want to consider growing them in containers or in tubs buried in the ground. This will provide containment for the high acid soil the blueberry plants need.
Note: It can take three to four years before your blueberry bushes produce fruit, and full production may take up to 6 years of age.
Care
Blueberry plants need consistent watering. First-year blueberries should have their blossoms removed to allow the plant to put all of its energy into producing new foliage; this will lead to better fruit production in following years. That said, one-year-old blueberries have a high mortality rate. For that reason you may want to consider purchasing and planting two- to three-year-old blueberry bushes that are more established.
Throughout the growing season, remove any weak or low-growing shoots; the latter will help keep berries from coming in contact with the ground.
Pruning
Northern highbush blueberries grow to between 5 to 9 feet in height, and require the most consistent pruning of all blueberry varieties. For good blueberry plant care, you may want to consider pruning your bushes, as needed. The best time to prune blueberries is in late winter to early spring after all chance of severe weather has passed.
See: https://www.gardeningknowhow.com/edible/fruits/blueberries/blueberry-plant-pruning.htm
Harvesting
Don't pick the berries too soon. The longer they stay on the bush to ripen fully the sweeter the berries become. Pick only ripe, gray-blue berries. Gently, using your thumb, roll the berries off the stem; they should fall off right into your hand with no tugging required. White and green blueberries do not ripen further once they are picked. Berries with any blush of red, although not ripe, may yet ripen once picked, if kept at room temperature.
Other Summer Berries
Bramble berries: include blackberries; red, black, golden & white raspberries; boysenberries; loganberries; dewberries. See


Also for how to propagate raspberry and blackberry bushes from cuttings:

Bush & shrub berries: blueberries, huckleberries, gooseberries, cranberries, red & black currants, elderberries, lingonberries (a raspberry/blackberry cross), Olallieberries (a cross between a loganberry and a youngberry, which is a blackberry variety), rowanberries (too bitter to eat uncooked), chokeberries (too astringent to eat uncooked).
Tree berries: mulberries; hackberries; serviceberries, a.k.a. Juneberries. Beware of ornamental berries that grow on trees, as many are not edible and some can make you ill.
In The Kitchen
Washing and Storing Berries
Whether you bought a basket at the farmers' market or hand-picked them yourself, you can store blueberries and other berries in the fridge or freezer.
In the fridge
• Berries typically keep in the fridge for two to seven days, depending on the type of berry. Generally, the more fragile or wet the berry, the shorter it will keep. To maximize shelf life:
• Wait to wash berries until just before you are ready to use them.
• Keep them in their original container so they can breathe at around 32-34°F.
• Keep your berries dry. If they look too crowded or humid, you may want to lay a paper towel under the berries in the bottom of the container.
• When ready to eat, rinse gently under cool water.
In the freezer
Preserve most berries for 8 to 12 months in the freezer. Freeze blueberries up to 10 months.
• Rinse berries in cool water, just as you would before serving berries that have been stored in the fridge, then lay them on towels in a single layer to dry completely.
• Next, lay berries on a tray lined with plastic wrap or parchment paper and freeze in a single layer for at least 1 hour.
• Once frozen, transfer the berries from the tray to an airtight container, or vacuum seal before placing in the freezer to store. If you do not have a vacuum sealer, use a zip-lock bag, and with a straw, suck out as much air as you can and then quickly seal the bag.
• To use frozen berries, defrost them in the refrigerator for several hours. For baking or making smoothies, use still frozen berries.
Tips
Do let your berries get closer to room temperature before serving; this will enhance their natural flavors.
Do take the time to freeze your berries in a single layer first; this makes it easier to remove berries and measure later on for a recipe.
Do add frozen berries directly to batters, such as for cakes, muffins and waffles; it helps prevent the batter from streaking and changing the color of the berries. Recipes might need to be adjusted for excess moisture when using frozen berries.
Do store frozen berries mixed together for easy smoothies.
Don't store your berries in the crisper drawers of your fridge; they are too humid for sensitive berries.
Don't wash blueberries before freezing; washing causes their skin to toughen.
Don't forget: all frozen berries lose their firmness after freezing.
Cooking with Berries…How Sweet It Is!
Choose your topping:
• Streusel is a sweet, crunchy, crumbly topping made of butter (or other fat), sugar and flour and sometimes with nuts and spices.
• A crisp is a baked fruit dessert, and as its name suggests, it has a crisp streusel topping made by combining oats, flour, butter, sugar and sometimes nuts. The topping completely covers the top of the fruit.
• A crumble also has a streusel topping similar to a crisp but without the oats. Baked.
• A betty, as in Apple Brown Betty, is similar to a crisp but has no oats and the fruit is baked between layers of buttered crumbs. A "brown betty" means brown sugar has been used.
• A cobbler is a fruit dessert baked with a biscuit-style topping. It's called a cobbler because its top crust is not smooth like a pie crust but is "cobbled" and coarse. It's usually dropped by the spoonful over the fruit and then baked.
• Slumps & grunts are similar to a cobber, but they're steamed on the stove instead of being baked with fruit on the bottom and biscuit dough (dumplings) on top.
• A buckle consists of cake on the bottom and fruit on the top, often baked with a streusel topping. As it bakes the fruit and streusel topping make the cake "buckle." It's a lot like a coffee cake.
• A clafouti is a baked French dessert, traditionally made with black cherries arranged in a buttered dish and covered with a thick flan-like batter and baked.
Source: Cookbook by J.R. Stevens: Cobblers, Crisps, Crumbles, Clafoutis, Grunts, Slumps, Buckles and Brown Bettys
What else to do with berries: pancakes, waffles, muffins, jam or jelly, raw in salads, add to smoothies, make a vinaigrette, chilled soup, sauces, and pies, of course!
…And Savory, Too
Try this Blueberry-Glazed Ribs Recipe – Grace Parisi | Food & Wine.
This same glaze is great on salmon too!
Try this recipe for Black Rice and Raspberry Salad • Green Evi.
If you can't find black rice, try wild rice, or substitute your favorite grain.
Blueberry Lemon Crisp with Almond Crumble
INGREDIENTS for the topping:
1 cup bleached all-purpose flour
3 Tablespoons sugar
1/4 teaspoon ground nutmeg
1/2 cup sliced almonds
6 Tablespoons unsalted butter, melted
INGREDIENTS for the fruit filling:
2 pints blueberries, rinsed, drained, and picked over
2/3 cup sugar
2 Tablespoons bleached, all-purpose flour
1 teaspoon finely grated lemon zest
1/4 teaspoon ground cinnamon
1/4 teaspoon ground nutmeg
1 Tablespoon lemon juice
Preheat the oven to 450°F
Step 1 – For the topping: Combine the flour, sugar and nutmeg in a mixing bowl. Stir well to combine, then stir in the sliced almonds. Stir in the melted butter evenly. Set aside for 5 minutes. Then, using your fingertips, break the mixture into 1/4-inch to 1/2-inch crumbs. Set aside.
Step 2 – For the fruit: Combine the sugar, flour, lemon zest, cinnamon, and nutmeg and stir well. Toss the berries with lemon juice. Then add the flour to the blueberries and toss well. Transfer to an 1 1/2-quart baking dish. Top with crumbs.
STEP 3 – Bake for 20 minutes or until the crumbs are golden brown and the filling is bubbling gently. Serve warm or at room temperature.
Blackberry Slump
– 4 to 6 servings
Time: 40 minutes. This recipe uses blackberries, but use any berry you like.
Remember, a slump is steamed on the stovetop, not baked.
INGREDIENTS for the dumplings:
1 cup all-purpose flour
1 1/2 teaspoons baking powder
1/2 teaspoon salt
2 Tablespoons sugar
2 Tablespoons butter
1/3 cup whole milk
INGREDIENTS for the berries:
4 cups fresh blackberries (if frozen, defrosted and drained)
1/2 to 3/4 cup sugar (depending on sweetness of the berries and how sweet you would like your slump to be)
1/4 teaspoon cinnamon
1 teaspoon lemon zest
1 teaspoon lemon juice
1/3 cup water
Whipping cream or vanilla ice cream for topping
Step 1 – Make the dough: In a medium sized bowl, whisk together the flour, baking powder, salt, and sugar. Cut the butter into small cubes and add to the flour. Using a pastry cutter, two knives, or your clean hands, cut the butter into the flour until the flour resembles a coarse meal. Add the milk all at once and stir until the flour is just moistened. Handling the dough as little as possible, form into a ball. Set aside.
Step 2 – In a 2-quart saucepan, add the berries, sugar, cinnamon, lemon juice, lemon zest, and water. Heat until boiling, stirring a few times so that the berries are well coated with the sauce.
STEP 3 – Once the berry mixture is boiling, tear off spoonful chunks from the dough ball and drop onto the fruit around the edges of the pot. You should have enough dough for 6 dumplings. Now, cover the pot and reduce the heat to a simmer. Cook for 25 minutes, without peeking at the dumplings.
To Serve – Spoon dumplings in serving bowls and top with berries and sauce. Serve hot or chilled, topped with cream, whipped cream or ice cream.
Basic Fruit Soup
– 4 servings
Scandinavians and Slavs sometimes serve a cold or hot fruit soup before the main course; berries, cherries, and plums are the favored "soup fruits."
INGREDIENTS
1 pint berries, washed and stemmed (strawberries, raspberries, blueberries, boysenberries, blackberries, or gooseberries)
1 pint water, or 1/2 and 1/2 mixture of water and dry white wine
1/4 cup sugar, or more to taste
2 teaspoons lemon juice
1 Tablespoon cornstarch blended with 2 Tablespoons cold water
Optional topping: Heavy cream, sour cream, or buttermilk
Step 1 – Simmer berries in water in a covered saucepan 10 minutes until mushy.
Step 2 – Puree by buzzing 15 to 20 seconds in a food processor fitted with the metal chopping blade; then press through a fine sieve.
STEP 3 – Return the puree to the pan, adding the remaining ingredients, and heat to a boil while stirring. Taste for sugar and add more, if needed.
Step 4 – Serve cold or hot, topped with cream.
Raspberry-flavored Vinegar
Bring 4 cups of white vinegar to a boil and then pour over 2 cups of raspberries. Let steep for 7 days. Strain through cheesecloth and store in a closed container in a cool, dark place.
More Berry Recipes:
• Southern Living magazine offers 61 ways to turn berries into a spectacular summer dessert.
• Try Williams-Sonoma's Summer Fruit Trifle using a purchased pound cake.
All Podcasts