July 31, 2021
Today's Main Ingredient is Leek
Host Mikki Uzupes talks with farmer Tammy Preble from Wolfe Springs Farm and chef Keegan Marchand from The French Manor Inn and Spa, a AAA Four Diamond B&B in South Stirling PA. And Carol Kneier tells us about the health benefits of leeks.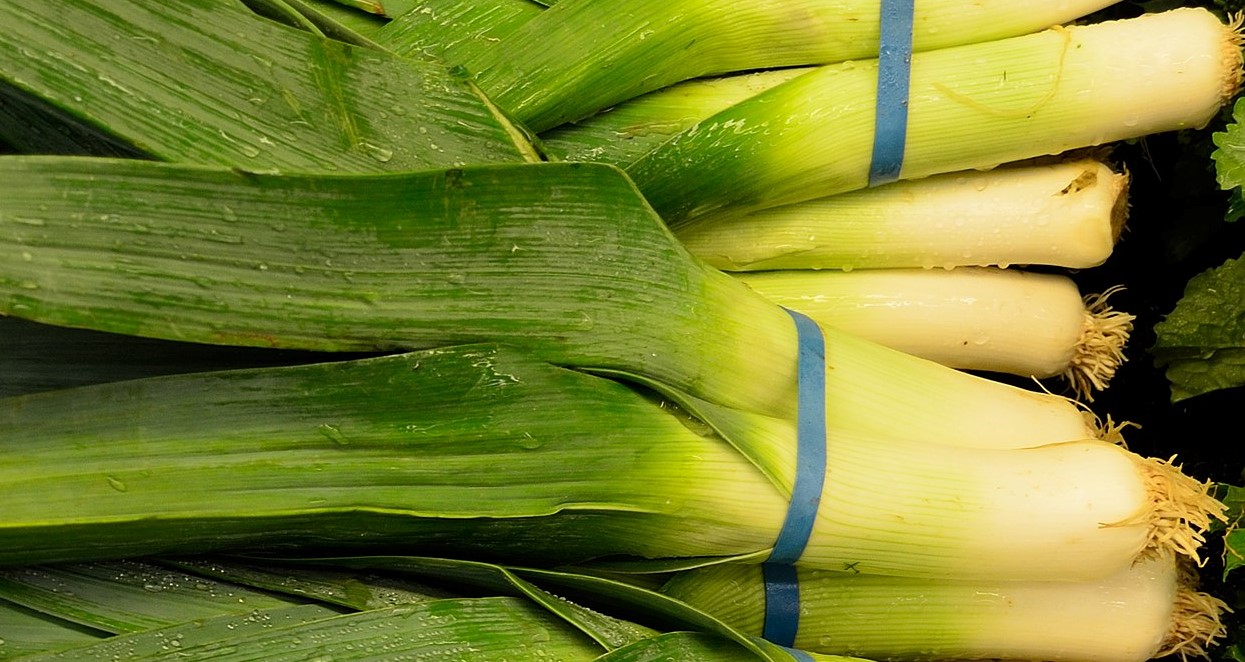 About Leeks
Leeks are a member of the onion family, but instead of a bulb, they have a thick, fleshy stem at the base and course leaves at the top of the plant. They're easy to grow and relatively pest-free. In many countries, leeks are as common as onions including France, Belgium, England, and Wales. Leeks surely deserve more respect than they receive in the U.S.!
Growing Leeks
Planting
Leeks have a long growing season, so consider starting with seedings, either those you start indoors from seeds yourself, or seedlings you can purchase from commercial sources. Ten to 12 weeks before the last winter frost, sow seeds in potting soil in trays or pots about an inch apart, or two seeds per cell in a plug tray. Cover them with a thin layer of more potting soil, and water them. Keep the potting soil moist but not too wet. As they get bigger, separate the seedlings into individual pots.
As the seedlings grow, you may want to cut off the leaves weekly, down to all but the bottom 2 inches of the plant; this will force the energy of the plant into growing its roots.
In the spring, when the ground is workable, transplant the seedlings when they are 6 to 8 inches tall, planting them 6 inches apart in a 12-inch-deep trench filled with 3 inches of compost.
Growing
As the leeks grow, gradually fill in the trench over time, mounding the soil around the plant's base. This deprives the lower stem of sunlight so it will not produce chlorophyll, and because they are 'growing in the dark,' the lower stem will become white. This is desirable, because the white and palest green parts of the leek are eaten, not the dark green tops.
Harvesting
Leeks are ready to harvest mid- to late-summer and on into the fall. The best time to harvest leeks is when they one to 1 1/2 inches in diameter. Larger than this, they become tougher and their flavor stronger in flavor. You want to harvest leeks before they form a bulb.
Harvest using a garden hand fork or spading fork to loosen the soil before lifting leeks. When the soil is loose, you can gently twist and pull on the leaves. Digging leeks is easier than pulling because leeks have a large root system.
Both leeks and green onions are crops that can be grown and harvested into late fall. If you mulch heavily when frost approaches and before the ground freezes, you will be able to harvest into the winter before the ground freezes, or…
Overwintering
You can leave full-grown leeks in the ground all winter for harvesting early in the spring. Snow provides some ground cover and protection from winter winds. But how cold your winter gets, makes a difference.
In our Northeast Pennsylvania/Upper Delaware River region, where we are Hardiness Zone 5b, some winters see temperatures dip to 14°F, while other years temps reach below zero. To be safe, it's best to mound the soil around the leeks and mulch heavily to safeguard them. Varieties make a difference, too; look for varieties like the Scottish heritage variety Musselburgh, or Winter Giant and Tadorna Blue, which are bred for cold hardiness.
In the Kitchen
Leeks have a milder, more refined flavor than onions and are easier to digest. The bigger and older the leeks, the stronger their flavor. When you're buying leeks, they should be smooth, without wrinkled outer layers.
Cleaning
Leeks are notorious for harboring soil and grit between their layers, and it is important to clean them thoroughly before cooking. See this Food Network video for a demonstration.
• Trim off each leek's deep-green outer leaves down to where the dark green color begins to pale; these leaves have little flavor, so save for stock or send them to the compost pile.
• Trim the roots.
• If you plan to slice or chop the leek for cooking, halve or quarter it lengthwise, stopping within 1 1/2 inches from the base.
• Gently fan out the leaves so that the grit can be easily removed, and then soak the leeks for 5 minutes. Next, holding the leek upside down by its root end, plunge the whole leek into cold water, swishing around in the water to remove any dirt. If the leaves are especially gritty, you may have to change the water and let them soak longer. If still gritty, consider rinsing them under running water at the tap. Once the leeks are completely clean, shake and dry them.
• If you are cooking the leeks whole do not halve or quarter but cut a single slit down one side to within 1 1/2 inches of the base, and then gently spread the leaves under cold running water.
Yields
2 pounds of leeks = 1 pound cleaned = approximately 3 cups chopped leeks = approximately 2 cups cooked chopped leeks. Count on 1/2 cup cooked leeks per person.
Storage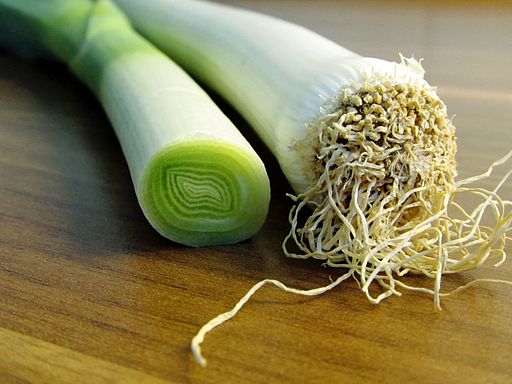 Store leeks whole with the roots attached. Keep them dry, as they rot quickly when wet. Or, separate the greens and the white parts, refrigerating them separately in loosely wrapped plastic (so other foods don't pick up their aroma). The whites will keep for a month or more, but the greens need to be used within a few days.
Don't can or freeze uncooked leeks. Freeze only cooked leeks and use within 3 months.
Cooking
Microwaving leeks does not work well.
Boiling
Sliced 1/8th inch thick (white and light green parts only): Drop thinly sliced leeks into boiling water, and then simmer for 10 minutes.
Whole: Drop into boiling water. Simmer for 7 to 10 minutes for small leeks, 10 to 15 minutes for medium.
Steaming
Whole leeks (white and light green parts only): place trimmed leeks in a covered steamer basket. Cook slender leeks 10 to 15 minutes, until a knife easily inserts into the white part of the flesh. Add 5 minutes for medium leeks, 10 minutes for large leeks.
White parts only, in two-inch pieces: Place in a covered stammer basket. Cook 15 to 25 minutes, depending on the thickness of the leeks, until a knife slips in to the flesh.
Sautéing
Sliced 1/8th inch (white and light green parts only): For 4 medium leeks, trimmed and sliced, add 2 Tablespoons butter to a medium sauté pan, and then add leeks, cooking and stirring, over medium heat for 15 minutes.
Roasting
Whole leeks: For 2 pounds (about 8 small, 6 medium, or 4 large) trimmed. Use the smallest pan that will hold leeks comfortably in a single layer. Slick the leeks and the pan with 3 Tablespoons butter. Roast in a 500°F oven for 15 minutes, and then turn the leeks. Roast for another 7 minutes. Add 1 cup stock, broth or water. Roast for 10 minutes, and then turn. Roast for 10 more minutes or until the leeks are nicely browned.
Grilling
Whole medium leeks: When cleaning, leave the root end intact to hold them together during cooking. Cut each leek in half lengthwise. Steam or boil as directed above, but reduce cooking to 3 minutes if boiling, 5 minutes if steaming. Drain thoroughly. Then cool enough to handle, squeeze excess liquid from the leeks. Coat with vegetable oil and season with salt and pepper. Grill cut side down until well-marked. Then turn. Cook until the second side is well marked and leeks are tender, about 4 minutes.
Braised Leeks
– serves 4 to 6 as side dish
INGREDIENTS:
12 small to medium leeks, trimmed and cleaned
1 1/2 cups chicken or vegetable stock
Salt to taste
6 Tablespoons butter (2 for the baking dish)
Preheat the oven to 350°F
STEP 1 – Place the leeks in a pan or pot wide enough to hold them in one or two layers. Add enough stock to almost cover them. Add salt to taste; the amount will vary depending on the saltiness of the stock. Bring to a boil and then turn down the heat. Simmer for 10 minutes.
STEP 2 – Reserving the cooking liquid, remove the leeks to a buttered baking dish wide enough to hold them in a single layer. Pour the cooking liquid over them and dot with the remaining butter.
STEP 3 – Bake for 30 minutes until the leeks are lightly browned and the liquid has almost evaporated. Serve.
To make a light main course, add a thin slice of ham over each leek portion and top with a half cup of grated cheddar. Broil until bubbly.
To serve cooked leeks cold or chilled, spoon an everyday vinaigrette over each serving.
Potato Leek Soup
– serves 5 to 6 as a first course
In French, this soup is called Potage Parmentier if served hot, or Vichyssoise if served cold.
INGREDIENTS:
1 1/2 pounds Russet (baking) potatoes, peeled and cut into 1-inch cubes
4 medium leeks, white plus 1 inch of pale green parts only, cleaned and cut into 1/4-inch slices
4 cups chicken broth or water
Salt and pepper to taste
1/2 cup heavy cream (plus an additional 1/2 cup for the chilled version)
Note: If this much cream is too indulgent for you, use half this or just a couple of tablespoons.
STEP 1 – In a medium saucepan, bring potatoes, leeks and stock to a boil. Lower the heat and simmer, covered, for 20 minutes.
STEP 2 – In a blender, working in batches of no more than 2 cups, puree the soup, or pass through a good foodmill.
STEP 3 – Return the soup to the pot, stir in the 1/2 cup cream and heat through. Season with salt & pepper.
STEP 4 – Serve hot as is; or if serving cold, stir in the additional cream then refrigerate.
When serving cold, optionally top with fresh snipped chives
Quiche with Leeks
– serves 8 as first course, or 6 as main
INGREDIENTS:
2 Tablespoons unsalted butter
3/4 pound leeks, white parts only, cleaned and sliced thinly across (about 3 1/2 cups)
1 1/2 teaspoons Kosher salt, divided
3 large eggs
3/4 cup heavy cream
A 10-inch quiche crust, fully baked
Place a rack in the center of the oven and preheat the oven to 375°F
STEP 1 – Melt butter in a large skillet. Add the leeks and 1/2 teaspoon salt. Cook over medium heat for 5 minutes, or until wilted.
STEP 2 – Reduce heat to low and cook for 20 minutes, stirring occasionally, until the leeks are very soft but not browned. Set aside.
STEP 3 – Whisk together the eggs, cream and remaining 1 teaspoon salt in a medium bowl. Stir in the leeks. Pour into the prepared crust.
STEP 4 – Bake for 20 minutes, or until set and slightly puffed.
Variation: Quiche with Leeks, Bacon & Gruyère
Cook 1/4 pound thick-cut bacon (1/4-inch dice) until browned. If desired, cook leeks in the rendered bacon fat. Add cooked bacon and 3/4 cup grated Gruyère (or substitute Emmental or Jarlsberg) into the custard base. Pour into prepared crust and bake as directed.
All Podcasts