July 3, 2021
Today's Main Ingredient is Peas!
Host Mikki Uzupes talks tasty peas with farmer Evan Morgan from Food For Beings a market garden outside of Honesdale PA and Chef Joe Infante, the executive chef at the new farm-to-table restaurant, Tick Tocks on Terrace in Honesdale. Registered Dietitian Carol Kneier shares the benefits of low glycemic and nutritious peas.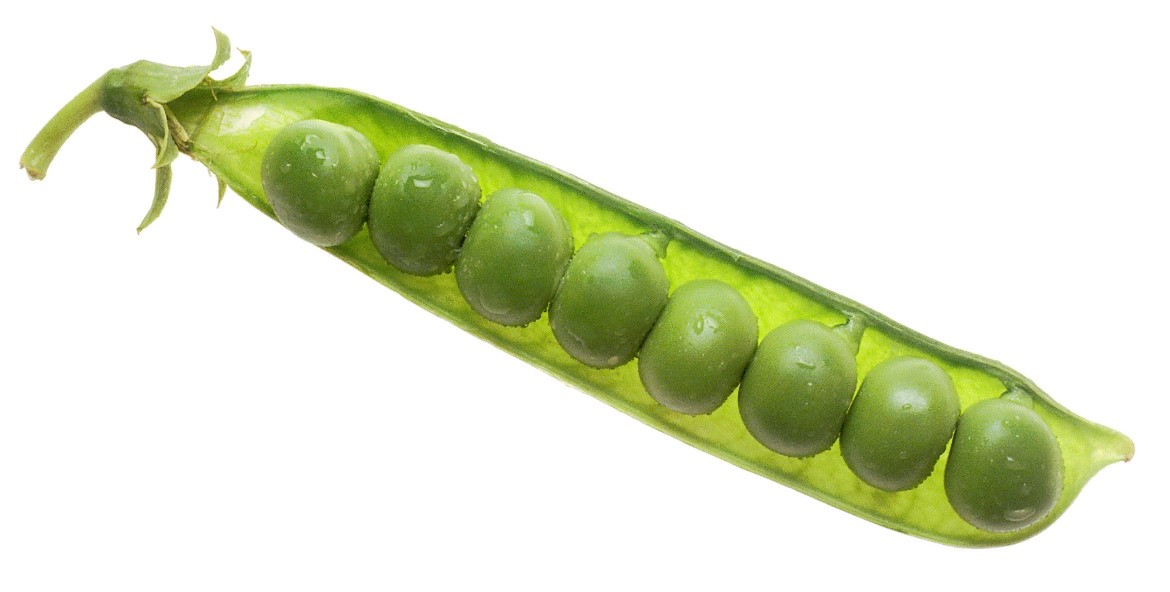 About Peas
Forget those canned things, that might as well be sold as mush. Peas from your garden or local farmer are sweet, crisp and de-lish!, and come in several varieties and forms:
• Garden peas or English peas (Pisum sativum) are shelling peas. The inedible pods open to reveal the seeds (peas). Garden peas come in bush and climbing-vine varieties.
• Snap peas (P. sativum, variety macrocarpon group) have thick, edible pods containing large/full-size peas.
• Snow peas (also P. sativum, variety macrocarpon group) are edible, flat, stringless pods containing underdeveloped, small, flat peas.
• Pea shoots are made up of a tender, top few inches of peas' climbing vines and include the delicate leaves, tendrils, and occasionally buds or blossoms; also sometimes sold as pea tendrils, pea greens, or pea tips. Sometimes they are mislabeled as pea sprouts or micro-greens, which are tiny whole plants.
In the Garden
Peas thrive in early spring cool weather and do poorly in hot weather.
• The key to growing peas is to plant them early enough; in Northeast PA, this means planting in mid to late April—so they mature while the weather is still cool. Snow will not hurt emerging pea plants, but several days with temperatures in the teens might. Be prepared to plant again if the first peas don't make it. Alternatively, try starting your peas in a cold frame. A second round of peas can be planted in the late summer or early fall, approximately 6 to 8 weeks before your first fall frost date.
• Peas like loamy, slightly acid to neutral soil. They do best in full sun. While peas can grow in partial shade, they won't be as sweet or productive as those grown in full sun.
• Do not plant peas in the same place more than once in every four years, i.e., rotate crops.
• Plant 2 inches apart in a 1 inch deep in rows 6 inches apart. Do not thin. This crowded sewing gives higher yield and dense foliage that helps support the vines. If seeds wash out of the soil, poke them back into it.
• Fertilizing is not usually required if the plants are mulched deeply with grass clippings, shredded leaves, or another biodegradable material. As with other legumes, pea roots will fix nitrogen in the soil, making it available for other plants. Peas need phosphorus and potassium, but excess nitrogen will encourage foliage growth instead of flowers or pods.
• All peas benefit from support. Bush peas can reach 18 to 30 inches tall, while pole types can grow to at least 4 to 6 feet tall. Some varieties require 5- to 6-foot-high bracing. For these tall and vining varieties, set up poles or a trellis at the time of planting. The young tendrils need to have something to climb on immediately after emerging from the soil. This support keeps them from rotting on the ground and lets the pods hang straight down, making them less misshapen and easier to pick.
• Peas have shallow, fragile roots, so remove intrusive weeds gently by hand; if necessary, hoe or cultivate but do so very carefully to avoid disturbing the roots.
• Unless plants are wilting, water peas sparsely with no more than 1 inch per week. Too much water encourages pea rot. However, do not let the plants dry out; if this happens, no pods will be produced.
Harvesting
Most varieties of peas are ready to harvest 60 to 70 days after planting. Snow peas are ready to harvest first, followed by garden peas, and finally snap peas.
• Pick peas in the morning after the dew has dried. They are crispiest then. And pick regularly to encourage more pods to develop.
• Pick snow peas when the delicate pods begin to show immature seeds inside. Gather snap peas when the pods become plump yet are still glossy and filled with sweet-tasting peas. Pick shelling peas before the pods become waxy.
• Use two hands when picking, or you might pull up the whole plant—one hand to hold the vine, the other to pick the pod.
In the Kitchen
Yields
• Garden (shelling) peas: 1/2 to 3/4 pound = 1 serving
• Sugar Snap peas: 1 pound = 4 to 6 servings
• Snow peas: 1 pound = 3 servings
• Pea shoots: use as a garnish, in a salad or stir-fry
Storage
Refrigerate peas unwashed for up to 5 days; place in paper bags, then in plastic until ready to use. The longer you store them, the less sweet they will be.
To freeze English peas: shell the peas and blanch 2 minutes, drain and pack in sealed containers.
To freeze snap or snow peas: remove the tips and tails, de-string the pods (if needed), blanch 2 minutes, and then chill in ice water 5 minutes. Freeze in single layers on trays. Once they are frozen, store in plastic bags, removing as much air as possible. Note: Snap peas and snow peas lose their crispness once frozen, so add them to cooked dishes only.
Preparation
To shell garden peas, snap off the top of the pod and pull the string down the side, pushing open the pod's side seam. The peas should easily come right out.
To string snap peas, both sides of the pod need stringing. Snap off the stem tip and gently pull the strings down the sides of the pod.
Snow peas often require only to remove the stem; use your judgment.
Cooking (or not)
The secret of success is to barely cook peas that were just harvested. A few moments in a hot pan are sufficient.
Add shelled garden peas to soups, stews and braises during the last 2 to 3 minutes of cooking. Add blanched, shelled peas to rice or salads.
Snap peas can be eaten raw on a crudités platter. Otherwise, cook rapidly. Cooking longer than 2 minutes opens the pods and diminishes their sweet flavor. Add to soups, stews and braises at the last 2 minutes of cooking. Try coating the pods with tempura batter and deep fry.
Sautéed and Braised
Sauté peas quickly in butter.
For each cup of peas, melt 1 to 2 Tablespoons butter. Toss peas until they are heated through, yet barely cooked. Cover the pan to braise them until desired tenderness. (Keeping the cover on too long deadens their beautiful color.)
Blanched
For English peas: This is the best method when using cold in a salad or on a composed vegetable plate. Boil in a large kettle of water, adding 1 teaspoon salt per quart of water (i.e., for 2 1/2 cups peas, use 4 to 6 quarts water). Drop peas into water and bring back to boil as quickly as possible. Shelled garden peas will blanch in 2 to 4 minutes. If eating immediately, drain and season, and then top with pats of butter. If using cold, drain and drop them into a bowl of cold water, and when they have cooled, drain well and set aside.


Depending on their age and size, snap peas and snow peas will blanch in 1 minute or less; older peas take from 2 to 3 minutes, but no longer.
Steamed
Bring an inch of water in a steamer to a boil; add the peas. Cover and steam until just tender.
Snow peas and snap peas will take 2 to 3 minutes; garden peas longer, depending on their size and age.
For over-age peas, blanch or braise
Blanch as above, then melt 2 Tablespoons per cup of shelled garden peas, add a bit of sugar and season with salt and pepper. Braise over low heat for 5 to 10 minutes or longer to tenderize them. For 3 to 4 cups of shelled peas, you'll use approximately 6 Tablespoons butter and 1 to 2 Tablespoons sugar.
Recipes
Fresh English Pea Soup
– serves 4 as soup course
Make this recipe only with fresh peas, not frozen or dried.
TIME: 45 minutes to 1 hour
INGREDIENTS:
2 pounds fresh garden peas in a pod
2 cups chopped onion
1 medium leek, cleaned and chopped (about 1 1/4 cups)
1 unpeeled carrot, chopped
2 Tablespoons olive oil
3 cups vegetable stock or water
1 teaspoon salt
1/4 teaspoon freshly ground black pepper
STEP 1 – Wash the pea pods, then shell the peas. Reserve the pods.
STEP 2 – Sauté the onions, leek and carrot in olive oil until wilted, about 5 minutes.
STEP 3 – Add the pea pods and the stock. Bring to a boil, reduce the heat to low, cover and simmer for 40 minutes.
STEP 4 – Strain the stock, discard the solids, and return the liquid to the pot. Add the peas and simmer until they are tender, 3 to 5 minutes.
STEP 5 – Remove the peas and puree them in a little of the stock. Return the puree to the stock and simmer for 1 minute.
STEP 6 – Add salt and pepper. Serve piping hot, garnished with additional sautéed leeks, celery, carrots, or croutons.
This soup is best served the same day. Refrigerate for 1 day if necessary.
Snap Peas, Green Onions & Radishes
– serves 6 as a side
A trip to the farmers' market will yield this dish, an early summer treat.
INGREDIENTS:
2 Tablespoons unsalted butter
1 pound good-quality button mushrooms, stems trimmed, caps quartered
3 scallions (green onions), trimmed and sliced diagonally into 1/4-inch slices
1 large shallot, peeled and minced (if available)
1 pound Sugar Snap peas, stemmed and left whole (or substitute 8 ounces snow peas)
Salt and freshly ground pepper
1 bunch spring radishes (about 8 or 9), trimmed and cut lengthwise into 1/4-inch slices
1/4 cup fresh mint leaves (optional)
STEP 1 – Melt butter in a large heavy skillet or wok over medium-high heat.
STEP 2 – When butter foams, add the mushrooms and cook until they begin to give up liquid. (They will go through a very dry period, but don't worry; just stir them frequently.)
STEP 3 – Add scallions and the shallot, stir, and cook until the scallions turn deep green, about 2 minutes.
STEP 4 – Then add the peas and cook, stirring until they soften and turn a vivid green about 5 minutes. Season with salt and pepper.
STEP 5 – Add the radishes to the vegetables. (Note: Cooked radishes lose their color if they sit, so add them at the very last minute.)
STEP 6 – Stir well, and then transfer the mixture to a serving dish. Serve immediately; sprinkled with mint leaves, cut with scissors into thin strips.
Stir-fried Chicken and Snow Peas – serves 2 as main course
INGREDIENTS:
3 Tablespoons cornstarch
1 cup chicken stock
2 Tablespoons rice wine vinegar
2 teaspoons sugar
2 Tablespoons vegetable oil
1/2 pound snow peas, strung, tips and tails removed, cut on the diagonal into 1/4-inch strips
3/4 pound skinless chicken (breasts or thighs), cut into thin strips
1/4 pound unsalted cashews (optional)
3 Tablespoons soy sauce
2 teaspoons Dijon mustard
1 cup cilantro leaves (optional)
Note: It is important to cut the chicken into thin strips, so it cooks quickly.
STEP 1 – Dissolve the cornstarch in the stock. Mix in rice vinegar and sugar. Set aside.
STEP 2 – Over high heat, heat oil in a large skillet or wok until it is shimmering. Add snow peas; toss to coat with oil.
STEP 3 – Add the chicken. Toss and cook for 2 minutes or until the outside of the chicken is white.
STEP 4 – Stir in the cashews (if using) and toss for 30 seconds.
STEP 5 – Stir the cornstarch mixture and then pour it into the pan or wok. Cook for 2 to 3 minutes until thickened.
STEP 6 – Add soy sauce, mustard and half the cilantro (if using). Stir until combined. Serve topped with remaining cilantro.
All Podcasts