September 4, 2021
Today's Main Ingredient is sweet corn!
Our host Mikki Uzupes talks yummy sweet corn with Matt Shaffer, owner/operator of Matt's Farm Market just off Rt590 east of Hamlin PA, and chef Ben Cooper from Here & Now Brewing Company on Main Street in Honesdale. Nutritionist Carol Kneier shares some of the health benefits of fresh sweet corn. As a whole grain, fresh corn is great to include in a balanced diet.


About Corn
Corn (or Maize) is a member of the grass family (Poaceae), and native to the Americas.
About 9,000 years ago, people living in parts of Mexico and Central America collected and consumed corn's ancestor, a wild grass called teosinte. The domestication of maize began around that time when hunter-gatherers in that region moved from foraging to cultivation. Maize eventually became a staple among Native American civilizations throughout the Western Hemisphere. Today, corn in the most grown crop not only in the United States but in the world.
Sweet corn is a type of corn with a high sugar content. It is harvested while young, when its kernels are still in their "milk" stage. Popping corn is a sub-type of sweet corn, with different growing and drying methods.
Field corn is not eaten directly but is dried or processed at a mill. It's most common use is as feed for livestock (e.g. silage or in a grain feed), or its starch is converted to food products and to ingredients, like corn starch, corn flour, corn flakes and corn chips. It is also reconstituted with water and an enzyme added to make corn syrup. For more about corn's many uses in our industrialized food system, the first chapter of The Omnivore's Dilemma by Michael Pollan is highly recommended reading.
Growing Corn at Home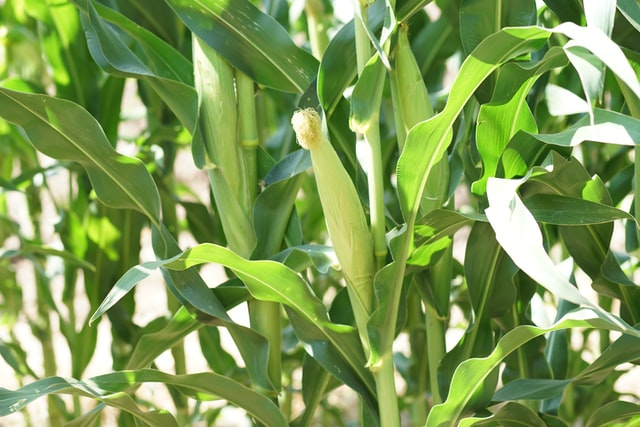 Planting
• Chose a site with soil that is well-draining but able to hold some moisture. Corn tends to use a lot of water.
• Work aged manure or compost into the soil in the fall so it will overwinter in the soil. If that's not possible, mix in aged compost prior to spring planting.
• Corn relies on wind to pollinate its flowers, so it should be planted in blocks of short rows instead of long, single rows.
• Starting corn indoors is not recommended. Rather, start seeds directly in the garden so that the plant's roots won't be disturbed by transplanting.
• Sow seeds about two weeks after the last spring frost date. In areas with a shorter growing season, choose an early variety that will mature well before the first fall frost.
• For successful germination, soil temperature should be least 60°F, and for super-sweet varieties 65°F. In colder areas, warm the ground with a black plastic cover, planting the seeds through holes in the plastic.
• Sow seeds about 1 inch deep and 4 to 6 inches apart in each row, with rows spaced 30 to 36 inches apart.
• Water well at planting time.
• When the young corn plants are 3 to 4 inches tall, thin them so that they are 8 to 12 inches apart in a row.
• A couple of weeks after planting, plant another crop to spread out the harvest.
Care
• Keep corn well-watered, as it has shallow roots and can become stressed by drought. An inch of rainfall per week is sufficient; water more if conditions are especially hot or if your soil is sandy.
• Mulch helps reduce evaporation.
• Be careful not to damage the roots when weeding.
Harvest
• Harvest when tassels begin to turn brown and cobs start to swell. Kernels should be full and milky.
• Pull ears downward and twist to remove from the stalk.
• Sugary varieties begin to lose their sweetness soon after harvesting, so use them as soon as possible.
• Prepare for eating or preserving immediately after picking.
In the Kitchen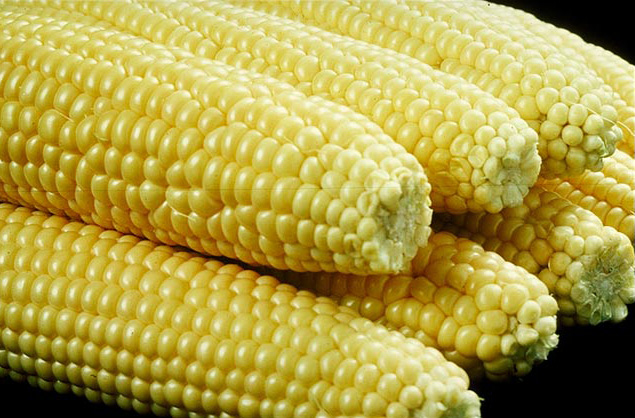 Did you know? Whole corn, like you eat on the cob, is considered a vegetable. However, the corn kernel itself is considered a grain.
Buying
When choosing sweet corn, look for husks that are tightly closed, silk that is golden or just turning brown and clean (not mushy or blackened). You want a stem that looks newly cut and isn't brown or dried out. Rather than pulling down the corner of the husks, which is irritating to the farmer because it dries out the corn, run your hands over the ear to be sure the rows are plump and well-filled. Use corn as soon as possible after buying.
The average ear of corn typically yields about 1/2 to 3/4 cups of kernels. If serving corn on the cob, figure two or three ears per person.
Storing
Corn should be refrigerated in its husks, in a plastic bag. If it's still warm from the sun, cool it under water before storing.
Uses and Preparation
Corn can be added to soups and stews, pancakes and breads, and in a pudding. It can be sautéed, creamed, or grilled. Roasted corn kernels add a smoky flavor and chewy texture to corn salads, salsas, and soups. Plus, of course:
Corn on the cob: To shuck: pull the husks off the corn, rub off the silk (a dry vegetable brush is helpful here), and cut off any blemished tips. Then boil a pot of water (or use just 1 inch of water to create steam under a tight lid), drop in the ears, and cook for 2 minutes. Don't salt the water, as it toughens the corn.
Corn off the cob: After removing the husks and silk and holding an ear at the tip, rest the stem end on the cutting board or in a large bowl to catch the juices. Using a sharp knife, slowly slice straight down the ear, leaving 1/8th to 1/4th inch of pulp behind on the cob. Then reverse the knife, and using its dull side, push or "scrape" down the length of the ear pressing out the rest of the corn and its milk.
If you want corn with a finer texture, grate it on the large holes of a box grater set over a bowl. Or drag the tip of a sharp knife through the center of each row of kernels, then slide them off as described. One ear of corn grated yields about 1/3 to 1/2 cup of kernels; slicing yields 1/2 to 3/4 cups.
Oven-roasted: Roast whole ears with their husks and silk attached at 425⁰F for 15 to 20 minutes. If there are no leaves, wrap in foil.
Fresh corn sauté: Slice off the kernels and then press out the scrapings. Melt butter or corn oil in a skillet over medium-low heat. Add diced shallot or sliced scallions, if desired, then the corn, its scrapings, and 1 Tablespoon water. Sauté until the corn tastes cooked. Add a touch of sugar if the corn is old. Young corn takes 3 to 4 minutes, older corn 6 to 8 minutes. Season with salt and pepper. For creamed corn, add 1/2 cup cream at the end and simmer until it has thickened a bit.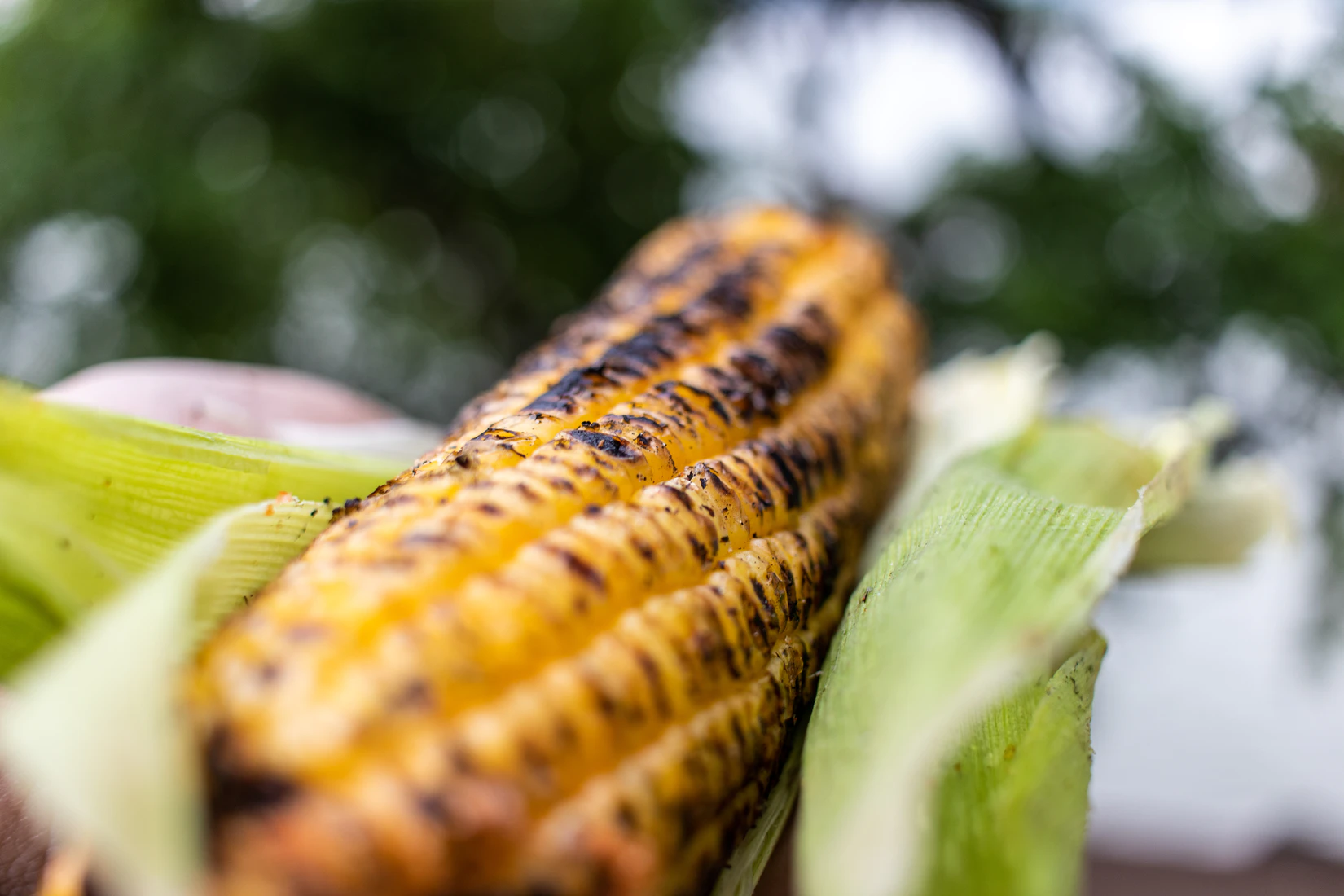 Grilled corn: Keep the stem attached, pull back the husks, and rub off the silk. Soak for 20 minutes in cold water, then pull the husks back over the kernels to enclose the ears. Depending on the heat of the fire, grill for 15 to 20 minutes, turning the corn frequently. When done, pull back the husks during the last few minutes so the corn caramelizes and chars just enough to intensify the flavor.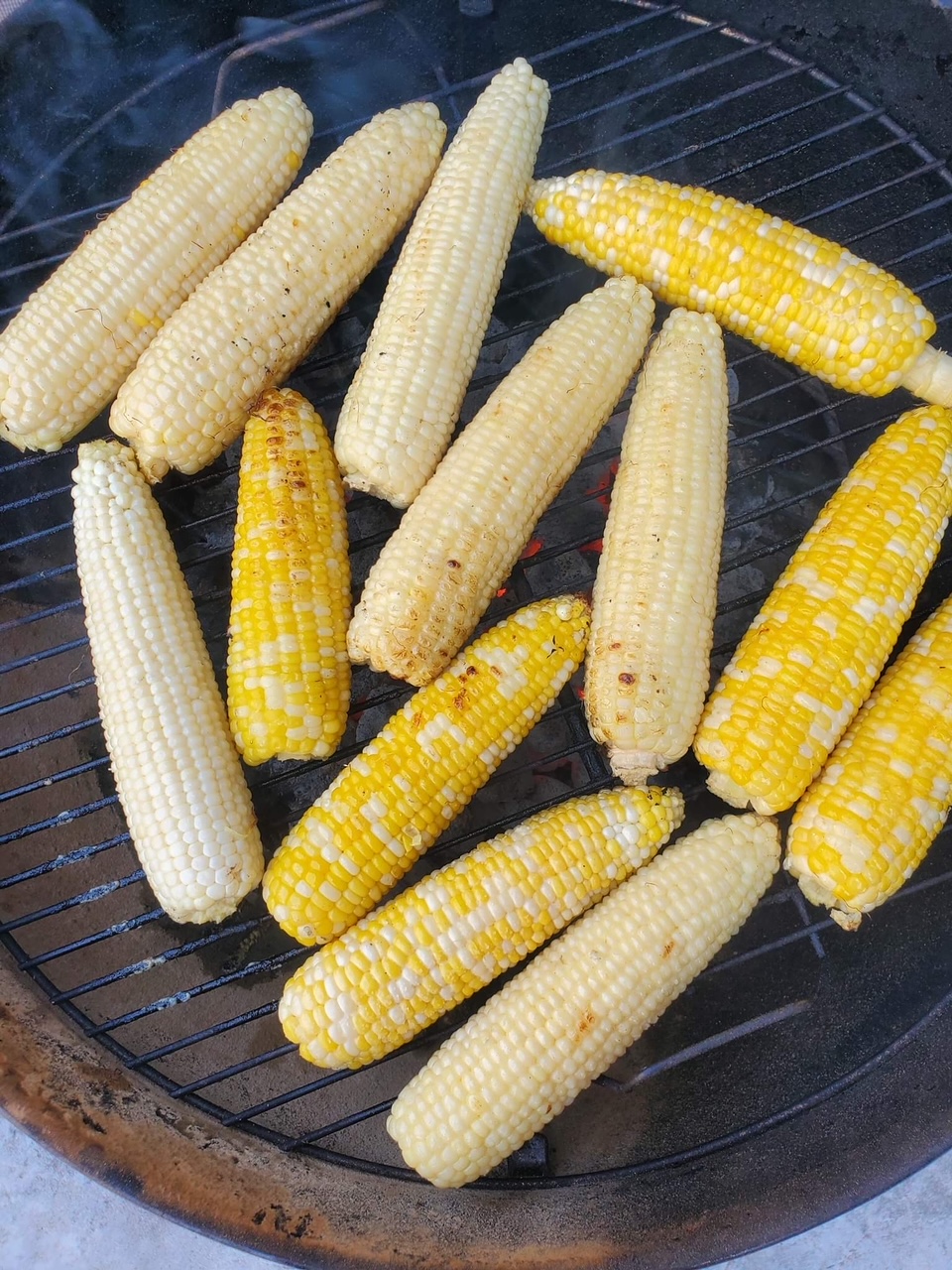 Alternatively, husk completely before grilling, and when the charcoal is covered in ashy grey, grill the ears directly on the grate, turning frequently.
Fire-roasted corn: Husk the corn, remove the silk, wrap the ears in heavy-duty aluminum foil. Lay them directly on the hot coals and cook for 10 minutes, turning a few times.
Sautéed Corn in Brown Butter
– serves 4
INGREDIENTS:
3 ears corn, shucked
4 Tablespoons butter
4 sprigs fresh thyme (lemon thyme from a farmers' market if available)
Coarse salt (sea salt or Kosher)
Freshly ground black pepper
Chopped fresh, soft herbs (basil, mint, parsley, cilantro or a combination)
Step 1 – Slice kernels from the ears of corn; then, using the back of the knife, scrape the cob to release the corn's juices. Transfer kernels and juice to a bowl.
Step 2 – Melt butter in a saucepan, add thyme. Let butter cook until you see golden brown specks in the bottom of the pan and the butter smells nutty, about 5 minutes.
Step 3 – Add corn, juices, and a large pinch of salt and pepper; stir well and cover the pot. Let cook until the corn is tender, about 5 minutes.
Step 4 – Remove thyme sprigs, add more salt and pepper if desired and serve hot, alone or as a side dish, garnished with herbs if desired.
Corn Chowder with Leeks, Potatoes & Roasted Red Pepper
– serves 4-6
This recipe uses the naked corn cobs to make a flavorful corn broth.
INGREDIENTS:
1 red pepper, roasted (see Episode 14 for how to roast)
3 1/2 cups fresh corn kernels (from 5 to 6 medium ears), cobs reserved
2 Tablespoons corn oil
2 medium leeks, white and light green parts only, sliced thin (see Episode 11 for how to clean)
2 cups milk
3/4 pound red potatoes, peeled and cut into 1/2-inch dice
2 Tablespoons fresh parsley, minced
Step 1 – Roast the red pepper under your oven broiler or over the gas flame of your stove or outdoors on the grill, turning as necessary until the skin is blackened all over. Put the charred pepper in a small paper bag or in a covered bowl to sweat. When pepper is cool, rub off blackened skin. Remove stem, seeds, and veins from inside the pepper. Cut into 1/2-inch dice and set aside.
Step 2 – First, cut kernels from ears of corn; then go back, and pressing with the back of your knife, scrape the cobs over a bowl to catch the milky juices. Add kernels to the bowl and set aside.
Step 3 – In a large pot, place corncobs with enough water to cover (about 4 cups). Bring to a boil, reduce heat, and simmer for 20 minutes. Pick out and discard cobs. Reserve 3 cups corn broth; save the remaining corn broth for other uses.
Step 4 – In a clean soup pot, heat corn oil and add leeks. Cook until leeks have softened, about 6 minutes.
Step 5 – Add corn broth, milk, potatoes, and salt & pepper to taste. Bring to a boil, then reduce heat. Simmer gently until potatoes are almost tender, about 15 minutes.
Step 6 – Add corn and continue to simmer gently until corn and potatoes are tender, about 10 minutes.
Step 7 – Carefully* puree 2 cups of soup in a blender. Return puree to soup pot, and reheat gently. Stir in chopped parsley and chopped roasted red pepper. Serve immediately.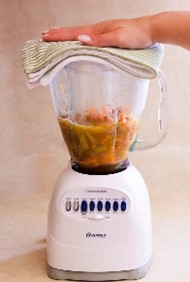 * – To safely puree any hot soup in a blender:
• Allow soup to cool for a few minutes before blending.
• Remove the center cap from the lid of the blender & fill blender halfway.
• Place a folded towel over the top of the blender, and then blend the soup, while lightly holding the towel.
Variation with Bacon
Substitute the following for Step 4 above:
In a clean soup pot or Dutch oven, cook 4 strips bacon over medium heat until crisp. Remove bacon from the pan and crumble when cool. Discard all but 2 Tablespoons of bacon drippings; no corn oil is needed. Add leeks to the drippings in the pot and cook until the leeks have softened, about 6 minutes.
Continue the recipe, picking up at Step 5.
Roasted Corn Salad
– serves 4
INGREDIENTS:
4 ears corn, shucked
2 Tablespoons plus 1/4 cup olive oil
2 Tablespoons white wine vinegar
1 teaspoon Dijon mustard
Salt and pepper
1 can black beans (drained & rinsed)
1 cup grape tomatoes, halved (optional)
1/2 cup fresh basil leaves, torn (optional)
3 scallions, thinly sliced (optional)
1 minced chipotle pepper, more or less to taste (optional)
Step 1 – Shuck corn, rub the ears with 2 tablespoons oil, wrap in foil and roast in a 450⁰F oven for 15 to 20 minutes. Alternatively, if you prefer to grill, it's not necessary to wrap in foil, but you must turn the ears frequently.
Step 2 – When cool enough to handle, cut the kernels off the corn cobs using a sharp knife.
Step 3 – Whisk together vinegar and mustard in a large bowl. While whisking, slowing drizzle in the remaining 1/4 cup oil and with season with salt and pepper. Consider substituting lemon or lime juice for the vinegar.
Step 4 – To the bowl, add the roasted corn, beans, plus other ingredients of your choice, and toss well. Serve!
For both flavor and color, consider adding tomatoes or red pepper; basil or cilantro, scallions or diced red onion, avocado, or other ingredients of your choice. For some heat, add minced chipotle pepper, which you can find canned in adobo sauce.
All Podcasts