August 14, 2021
Today's Main Ingredient is zucchini and other summer squash
Our host Mikki Uzupes talks with farmer Stan Bialecki from Bialecki Farms in Lakewood PA, and Jamie Stunkard, owner and chef at Nature's Grace Healthfoods and Deli on Main Street in Honesdale. Nutritionist Carol Kneier shares how a low-carb cup of squash has half the carbs of pasta and is full of vitamins and fiber.



About Zucchini and Summer Squash
If it's August, it must be zucchini time! Zucchini is just one of many summer squash that are very easy to grow in northeast Pennsylvania and produce abundantly in mid-summer. Each plant can produce several squashes a day during peak season. For this reason, the home gardener may need only one or two plants to satisfy their needs.
In addition to the familiar green zucchini, there are plenty of other varieties: yellow and striped zucchini, yellow straightneck squash, crookneck squash (usually yellow), as well as round and oval varieties like pattypan, also called scallop squash. All of these are tender annuals that mature quickly.
The weirdest one of all is a variety called a luffa (or loofah) squash; edible when young, but if this squash is allowed to dry out it will turn into a loofah. "Seriously. It dries out, the skin is cracked away and the inside is revealed as a latticed, scratchy object that's well-suited for scrubbing." — https://modernfarmer.com/2015/08/summer-squash-varieties/
Planting
After the last early spring frost when the soil is warm, it is safe to plant seedlings, transplants, or sow seeds outdoors. Planting seeds earlier than this, means starting them indoors or warming the soil outdoors with black plastic 2 to 4 weeks before the last spring frost.
Pick a spot in full sun with well-drained soil. Add plenty of garden compost or well-rotted manure to the soil before planting. It's also helpful to put some organic fertilizer in the hole you dig. Plant squashes at least 2 feet apart, and sow seeds 1-inch deep, dropping 2 seeds into the hole. Place a clear jar or half a plastic bottle over top of the seeds. Alternately, create a mound of soil and plant 3 or 4 seeds, as the soil is warmer off the ground, and then allow 5 to 6 feet between mounds. Mulch to lock in moisture.
Care
Water frequently, and especially well when the ground is dry. Be generous; the soil needs to be moist 4 inches down. Remove weeds.
When the first blossoms appear, apply a small amount of fertilizer at the side of the plant. The bumble bees and other insects will pollinate the squash blossoms, but you can hand pollinate for better yields.
Pests
Early in the season, watch for squash bugs. Rub or scrape off the eggs. Knock or shake adult bugs off the plants in to a bucket of soapy water.
Another pest is the squash vine borer. They burrow into the plant's stems. Row covers can help keep them off, or you can wrap the stems with foil to protect them.
Powdery mildew, caused by inconsistent watering, shows up on the plant's leaves and is usually found later in the season. Remove infected leaves. To prevent powdery mildew, mist the leaves with a solution that is one-third milk to two-thirds water.
Harvesting
The smaller fruits are more flavorful and have a more tender skin. Because these squash are so prolific, be sure to check under all the leaves every 2 days. Otherwise, you're sure to find some 'monsters'.
Harvest zucchini, straightneck and crookneck squashes when 6 to 8 inches long by cutting the stem just above the squash; do not pull them. Remove overripe squashes to reduce demands on the plants for moisture and nutrients.
In The Kitchen
There are many ways to prepare zucchini and other summer squashes: grilling or searing in a smoking-hot pan, baking, frying, stewing, in a casserole, pickling, or you can eat it raw by slicing very thinly to add to a salad or adding to boiled pasta. Squash blossoms are also edible and can be battered and fried.
Choosing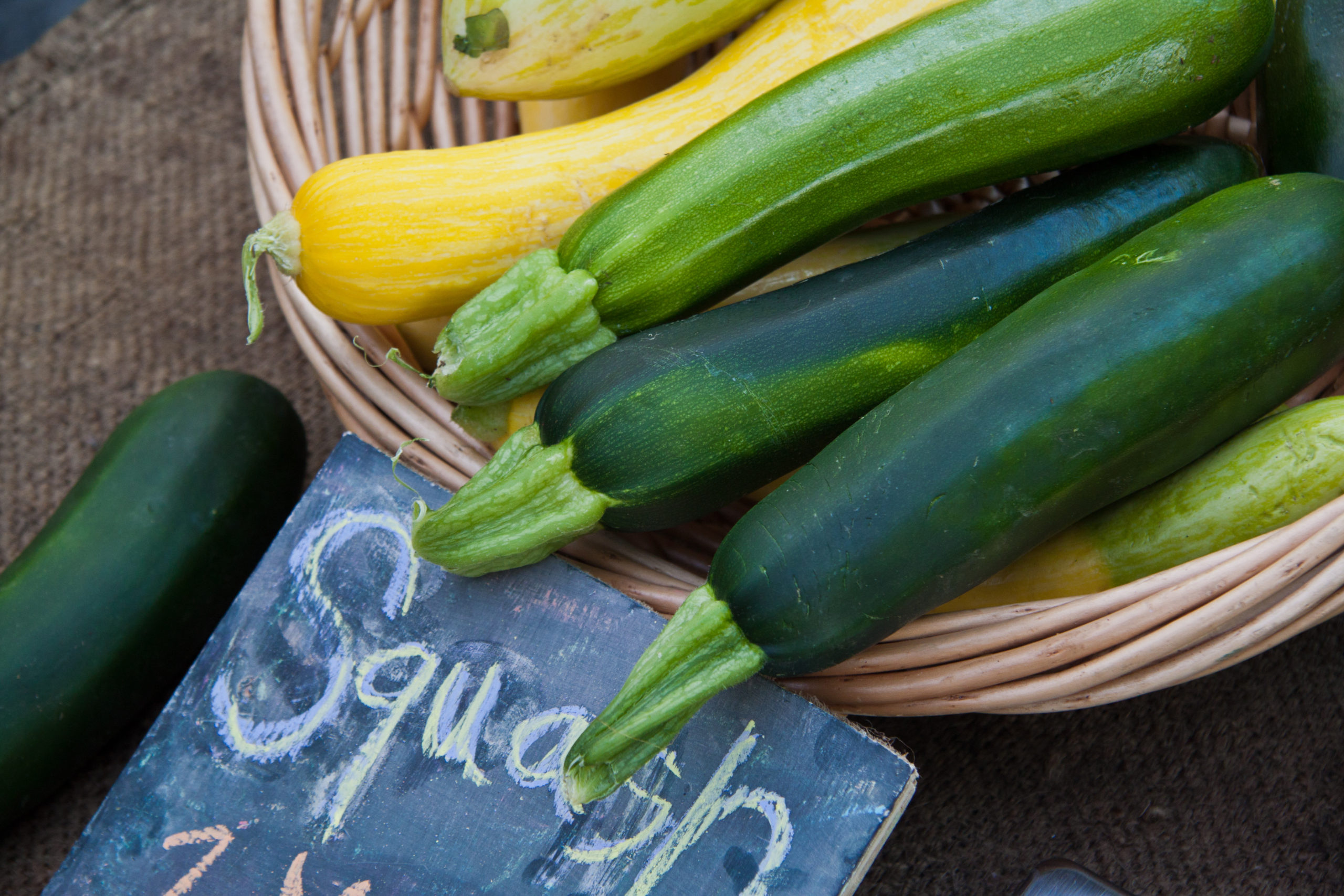 See 10 Types of Summer Squash and How to Cook With Them | Allrecipes. Young, small squashes are most desirable because of their compact flesh, small seeds, their tenderness and sweetness. The bigger the squash the more seeds they'll have. But small does not mean the size of your finger; like many vegetables, those that are underdeveloped have little flavor.
Cleaning
No one likes eating vegetables with grit. Zucchini and other summer squashes are sometimes free of grit, but not always. If you are uncertain whether there is embedded soil in the squash skin, soak in a large bowl of cold water for 15 to 20 minutes, then rinse thoroughly under cold running water, rubbing the skin with your hands.
Storing
Store unwashed in the refrigerator until ready to use. Just picked zucchini can be stored in the refrigerator in a loose plastic bag in the crisper drawer for up to 10 days. If you're lucky enough to get squash blossoms, don't try to store them; use them right away.
Preparing
Trim away both ends and cut the zucchini or other squash as the recipe requires. If you are boiling them, leave the ends on.
Freezing
Sliced summer squash needs blanching:
• Choose young squash (smaller than 6 inches long)
• Wash the squash
• Cut into one-and-a-half-inch rounds
• Blanch it in boiling water for 3 minutes
• Cool promptly by placing the rounds into ice water and leave for 3 minutes; drain the slices and pat dry as needed.
• Place in freezer safe container leaving 1/2-inch head space. Seal.
Grated zucchini is best for baking and can be steam-blanched:
• Wash and grate
• Steam-blanch* grated zucchini in small quantities for 1 to 2 minutes
• Cool the grated zucchini in icy water leaving for 1 to 2 minutes and then drain well
• Place measured amounts of grated zucchini into freezer-safe containers or freezer bags, leaving 1/2-inch headspace
• Squeeze out as much air as you can or use a straw to suck out the air from freezer bags. It is helpful to mark the amount. Thaw to use.
Alternately, freeze smaller portions in ice cube trays. When the cubes are solid, remove them from the tray and put them into a freezer bag.
*To steam blanch, use a pot with a tight lid and a basket that holds the food at least three inches above the bottom of the pot. Put an inch or two of water in the pot and bring the water to a boil. Put the vegetables in the basket in a single layer so that steam reaches all parts quickly. Cover the pot and keep heat high. Start counting steaming time as soon as the lid is on.
For ideas about what to do with zucchini and other summer squashes (roasted, grilled, braised) in soups, on pizza, pickled, in desserts, and more, see 23 Zucchini Recipes to Use Up Your Summer Bumper Crop | Saveur.com
Fried Zucchini
– 4 to 6 servings
This method creates a brittle, thin crust that doesn't fall off and doesn't soak up oil like a sponge. The same batter works for frying squash blossoms.
INGREDIENTS:
1 pound fresh zucchini
2/3 cups flour
Vegetable oil
Salt
Step 1 – Clean the zucchini; trim away the ends and cut lengthwise into slices about 1/8-inch thick.
Step 2 – Put 1 cup water in a shallow bowl; then gradually add the flour, shaking it through a strainer. With a fork, beat the mixture. When the flour has been mixed with water, the batter should have the consistency of sour cream. If it is thinner, add a little more flour; if it is thicker, a little more water.
STEP 3 – Pour enough oil into a skillet to come 1/2 an inch up its sides and turn on the heat to high. When the oil is quite hot, drop the zucchini slices, a couple at a time, into the batter. Slip a fork under the slices, and one at a time slide into the pan. The oil should be hot enough to sizzle. Do not crowd the pan, which may require cooking the slices in batches.
STEP 4 – Cook until a fine, golden crust forms on one side, and then turn the slices over. When golden on the second side, transfer with a slotted spoon or spatula to paper towels. Sprinkle with salt and serve piping hot.
Fried Zucchini Blossoms
You can use this same flour & water batter above to crisp-fry zucchini blossoms. You'll have enough batter for a dozen male zucchini blossoms. Note: The female blossoms, attached to the zucchini, are mushy and don't taste good.
When the oil is very hot, use the blossoms' stems to dip them quickly in and out of the batter, and the slip them into the skillet. After they have formed a golden crust on one side, turn and fry the other side. Drain on paper towels, then salt and serve immediately.
Zucchini Fritters
STEP 1 –
Using the large holes of a box grater, grate 2 small zucchini, 1 small Idaho potato, and 1/2 medium onion. Transfer to a mesh sieve set over a bowl and toss with 2 teaspoons salt; then let vegetables sit until they release their liquid, 30−40 minutes.
STEP 2 – Mix 2 eggs, 1 garlic clove minced (optional), 1/2 teaspoon ground cumin, 3 Tablespoons chopped fresh parsley in a medium bowl; season with salt and pepper.
STEP 3 – Gather up half of zucchini mixture in a kitchen towel and squeeze out the excess liquid. Add it to bowl with egg mixture and repeat with remaining zucchini mixture. Sprinkle 1/3 cup flour and 1/2 teaspoon baking powder over that and mix gently.
STEP 4 – Heat 1/2 an inch of vegetable oil in a large skillet over medium-high. Working in batches, spoon scoops of mixture into skillet, flattening gently with a spatula. [Alternatively, use a well-greased waffle-iron.] Cook until golden brown and crisp, about 3 minutes per side. Transfer to a wire rack; season with salt.
Serve with sour cream; or plain yogurt mixed with minced mint, a little lemon juice and 1 teaspoon honey.
Grilled Summer Squash
– serves 4, or 6 as a side dish
A combination of green zucchini and yellow squash, or also adding eggplant or peppers, makes for a colorful and interesting presentation.
INGREDIENTS:
~2 pounds (four 8-inch long) summer squash
3 Tablespoons extra virgin olive oil
2 cloves garlic, minced
1 teaspoon dried oregano
1 teaspoon dried mint
1/2 teaspoon crushed red pepper
Salt and freshly ground black pepper
Set up your grill for direct heat and set to high. If using a vegetable grate, preheat it as well. Just before the squash goes on, toss some wood chips on the coals (if using a charcoal grill) or place in the smoker box or smoker pouch of your gas grill.
Step 1 – Cut the squash lengthwise into 1/4-inch slices. Arrange the slices on a baking sheet and drizzle with 2 tablespoons olive oil, turning the slices several times to coat both sides with oil. Sprinkle both sides with the garlic, oregano, mint, crushed red pepper, and lots of salt and pepper. Let marinate for 15 minutes.
Step 2 – Arrange the slices on the grate and grill until nicely browned on both sides, 4 to 6 minutes per side. Resist moving or turning too soon, so that you get nice grill markings.
STEP 3 – Transfer the squash to a platter and arrange in an attractive pattern. Drizzle the remaining tablespoon of olive oil over the squash and garnish with lemon wedges for squeezing. Serve at once.
Zucchini Frittata
– serves 6
INGREDIENTS:
4 eggs, lightly beaten
3 packed cups shredded zucchini, partly drained
1/2 small onion, minced (optional)
1/2 cup grated cheese(s), such as Parmesan, Swiss or Cheddar
1/4 cup vegetable oil
1 cup premixed biscuit or pancake flour, e.g. Bisquick
1 Tablespoon fresh or 1 teaspoon dried herbs, such as oregano and parsley
Salt and pepper to taste
Preheat the oven to 350°F
Step 1 – Mix all the ingredients into a just-moistened rough batter. Pour into a buttered 7-inch by 10-inch baking dish.
Step 2 – Bake for 35 to 45 minutes, until lightly browned and puffed up.
STEP 3 – Cut into squares and serve warm with salad greens. Reheat any leftovers for breakfast.
Editor's note: Be creative and add other flavors to your liking, such as lemon zest, minced fresh sage or celery leaves, fresh corn kernels, chopped sweet or hot peppers, bacon or pepperoni bits, or drained crab meat. Optionally, prior to baking, top with very thin tomato slices, onion (thinly-sliced rings, or previously fried), paprika or seafood seasoning, extra cheese or breadcrumbs, etc.
Chilled Zucchini Soup
– serves 6
This is a refreshing summer soup. Make ahead and refrigerate, and you won't have to turn on the stove on a hot summer's day.
INGREDIENTS:
1 large onion, trimmed and cut into chunks
1 Tablespoon vegetable oil
1/2 to 1 teaspoon curry powder, to taste
5 medium zucchini, trimmed (not pealed); 4 cut into chunks, with 1 cut into matchstick-sized strips
3 cups chicken broth (if canned, use reduced sodium)
A generous handful of flat-leaf parsley leaves (leaves only)
1 cup light cream or half & half
Salt and pepper
A squeeze of lemon juice to taste
Step 1 – In a large pot, sauté onion in oil until well wilted, and then sprinkle with curry powder and cook for 30 to 40 seconds, stirring. Add zucchini chunks and broth; bring to the boil and reduce to a simmer, cooking until the zucchini is soft, about 10 to 12 minutes. Stir in the parsley, just to wilt. Strain, reserving solids and liquid separately.
Step 2 – Add matchstick-size zucchini strips to hot liquid and set aside.
STEP 3 – Puree the zucchini/onion/parsley solids in batches in food processor or blender, removing the pureed mixture to a large mixing bowl.
STEP 4 – Add the reserved liquid with zucchini strips to the soup, and finally add the cream or half & half. Taste, and season with salt, pepper and a squeeze of lemon as needed.
STEP 5 – Chill at least 2 hours before serving. If the soup is too thick, add a bit of water, broth, or milk.
For zucchini casseroles, see 32 Zucchini Recipes in a Casserole You'll Absolutely Love | Taste of Home.
For zucchini pickles, try:
• Quick-Pickled Zucchini | Nancy Fuller | Food Network (no canning needed, but must be refrigerated)
• Or, if you know how to can in a water bath, How to Make Zucchini Pickles | Taste of Home
Extras
With the Wayne County Fair going on this week, as well as National Farmers' Market Week, our roving reporters asked the question: What do you do with zucchini? Listen in for more great ideas!

All Podcasts